By now most of you (readers in the UK) will have received this leaflet from the Brexit Party
Hor a Party that was first announced in

d on 20 January 2019 by former

UKIP

economics and

[10]

It was registered with the United Kingdom

Electoral Commission on 5 February 2019 to run candidates in any English, Scottish, Welsh and European Union elections.

one wonders where they obtained the addresses of apparently everyone in the UK
Carole Cadwalladr
@carolecadwalla
·
Ok, here's a question
@Nigel_Farage
. Where did you get my mum's name & address from? She's not on public register. Do all campaigns now have the official register?? Or is it from your database
@Arron_banks
? Or yours
@TBorwick
? Where's the data from??
Indeed did they get it from the 650 constituencies in the (where not everyone chooses to be on the electoral register? it would mean that the Brexit party that in january of this year were operating from a Bed and Breakfast have a fair number of experienced stafff.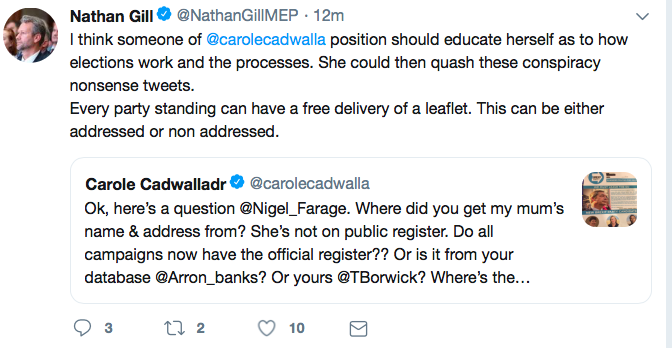 So Nathan Gill who is a former Ukip MEP from Wales is suggesting firstly admitting this is an electoral communique and therefore should appear on their electoral expenses and a breakdown should tell us who they paid for the data.
Also does this mean that we will not be seeing any further free deleivary of leaflets.
Only yesterday Nigel Farage was saying his Brexit Party is planning to run candidates in any snap General Election and is targeting disaffected and frustrated Tory donors to help finance the campaign.
The former Ukip leader said his fledgling party was looking past the European elections on May 23 towards any national poll called if politicians fail to deliver Brexit.
At an election event in London today he aid the party was looking for '

650 men and women ... with real-world experience, people who either in civic life or business life

ory donors frustrated at

Theresa May

's leadership are being targeted by Nigel Farage as he seeks to build an election war chest for his Brexit Party.
And he said former Tory donors were in conversations about providing the 'big bucks' needed to fight a general election campaign - in which he was likely to stand.
Mr Farage said the party had already raised 'well over' £2million to fight the European contests, with 90 per cent of it from some 88,000 registered supporters paying £25 each, although a £100,000 donation had also been received.
But he said 'much bigger donors, traditionally donors to the Conservative Party' were now in conversations with the Brexit Party 'because they understand and realise that to fight a general election seriously we are going to need big bucks'.

have got some achievements under their belt'.
But this is in the future and the question where the current revenue for a the current EU campaign has has came from.
On his plans for standing General Election candidates will it compose of the current far left -far right coalition that the party appears to consist of,
The party is standing candidates in Great Britain at the 2019 European elections, with candidates including the former Conservative
Minister of State
Ann Widdecombe
,
the journalist
Annunziata Rees-Mogg
(a former Conservative general election candidate and the sister of the Conservative MP and Brexit advocate
Jacob Rees-Mogg
), the
Leave Means Leave
co-founder
Richard Tice
,
the writers
Claire Fox
and
James Heartfield
(both once part of the
Revolutionary Communist Party
and later writers for
Spiked
),
James Glancy, a former member of the
Royal Marines
and the
Special Boat Service
who was awarded the
Conspicuous Gallantry Cross
,
[
Martin Daubney
, a journalist and commentator,
David Bull
, doctor, author and television presenter,
Brian Monteith
, a former
MSP
,
Rupert Lowe
, a businessman
and retired Rear Admiral
Roger Lane-Nott
.
John Longworth
, the former director-general of the British Ch
ambers of Commerce, announced he would be standing as a candidate for the party on 15 April 2019.