T
here may wel have been a very god reason Wales' media e been barred from asking Prime Minister Boris Johnson any questions on camera in that he might have been subjected to real questions about the fate of Wales Post Brexit after a NO-Deal exit
"Journalists from ITV, BBC Wales, Heart Wales and the South Wales Argus complained that they were only allowed to ask questions without recording the answers for TV or radio.
They were also cooped up in a "tin shed" and not allowed to accompany the Prime Minister on a tour of a farm in St Brides Wentlooge near Newport.
The newly appointed PM was visiting Wales for the first time since securing the top job.


"On Boris Johnson's first visit to Wales as PM, BBC Wales News and ITV Wales

are refused the opportunity to ask him a single question on camera," BBC journalist Felicity Evans said.
ITV Wales political editor Adrian Masters said that he had refused to ask Boris Johnson a question because he was not allowed to film the exchange.


"For the record then: on the Prime Minister's first visit to Wales the national news outlets of Wales ITV Wales, BBC Wales and WalesOnline

weren't allowed interviews," he said. "We were offered chance to ask questions but not to film them.
"Also for the record, I refused this offer. I hate to have turned down the chance to challenge Boris Johnson but I wouldn't have been able to broadcast any of it. I'd have had to read quotes to the audience tonight.
"I do think it's a strange way to begin for a new Prime Minister who says he wants to strengthen the union to treat the main national news outlets this way."
Prehaps the Prime Minister did not want to face
The Secretary of State for Wales, Alun Cairns, has been blasted after a "car crash interview" on Radio 4's Today programme this morning
Welsh Secretary Alun Cairns was asked on BBC Radio 4's Today programme to explain what he would say to Welsh sheep farmers who are worried that they could face tariffs (taxes on imports) of around 40% on the lamb they export to the European Union, if there is a no-deal Brexit.

He said he'd point to a "significant new market" in Japan.
An agreement for Japan to open its market to imports of UK lamb and beef was signed in January this year during the visit of Japanese Prime Minister Shinzo Abe.
It was not part of any negotiations on post-Brexit trade arrangements. Imports of lamb and beef from the UK had been banned since the BSE crisis in the 1990s.
Japan does not charge tariffs on the import of lamb from any country, so the agreement is obviously good news for UK lamb producers. It will continue in the event of a no-deal Brexit.
When it was signed in January, the government said it could be worth roughly £52m over the first five years of access - so about £10.4m per year.
The National Farmers' Union says current UK lamb exports to the European Union are worth £389m per year.
So if the Japanese agreement performs as well as expected, it could account for 2.67% of current exports to the EU.
Perhaps the representatives of the Media would have asked that if the Japanese wanted to import Lanb Meat , they would be buying it from New Zealand, that compared to Wales is almost next door.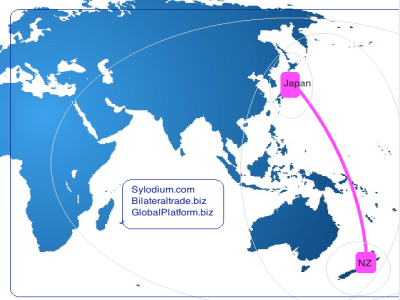 Welsh Lamb sales have been competing with imports from New Zealand ever since the the
first successful shipment of frozen meat to Britain in 1882.
I would love to see Welsh Lamb exported throughout the world , but to

suggest

that somehow this would be increases after the UK leaves the EU (and much of its markets ) is ludicrous.