It seems we saw a case pf "The Shit stirring the Shit" this week when one of Ukip's Assembly Members Neil Hamilton "

A liar and a cheat".

tweeted this.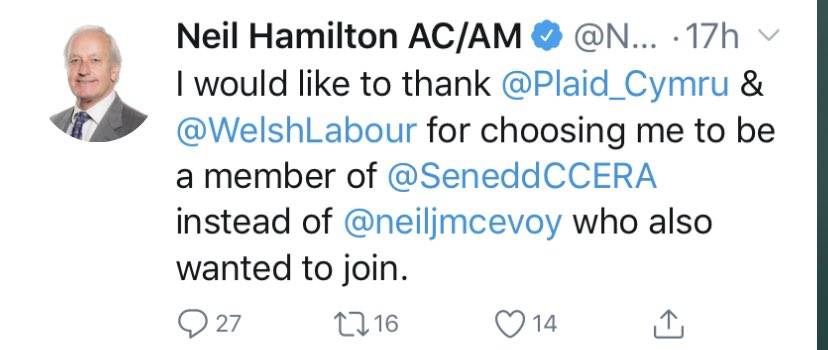 Mr Hamilton's intentions seems to be clear in that he wishes to stir up trouble among Plaid Members and supporters over the row over allowing former Plaid AM back into the party.
Mr McEvoy seems to support Hamilton's story
.
I was really disappointed to have a
#UKIP
AM chosen before me for the Assembly Environment Committee.
should have backed me over
I wanted to raise matters on LDPs.
No. There were two places on Committees for AMs not members of Party Groups. One on Petitions, one on Environment. Neil McEvoy got Petitions, Hamilton got Environment. Neither objected at the time, or voted against when it came to the full Assembly for ratification. Non story
Now you can argue (and probably be right) that the Environment Committee is more prodigious than Petitions and Hamilton his a Climate Change Denier, but it seems that both Hamilton and McEvoy are creating a storm in a teacup.
Mr McEvoy made himself ridiculous this week by tweeting this
Good for her. She should have been expelled from plaid cymru for this entrance.
Congresswoman Omar just arrived back in the Twin Cities.
Comparing himself to a courageous US congresswoman, who had been racially attacked by her President and his supporters is egotistical and crass, and he should apologise for doing so,