The appointment of Boris Johnson as Prime Minister has no yet met overwhelming support for our media , but the Guardian seem to be particularly negative.#
Snakes, stupidity and sycophants: the horror of the Johnson cabinet
Here is all the action from the day. I am so, so sorry.
Sajid Javid thinking about his life choices right now.
Anyway, I'm not saying the past three years haven't been bad for all of us, but specifically bad for me, who had the indignity of being nominated for a prestigious Press Award, losing, and watching Vine win in a different category. It felt a bit like being punched in the face by excruciating prose.
What this is is when you bump into a colleague that you hate leaving the office at the same time, and have to exchange a polite hello. You're both going the same way, but under no circumstances can you bear to spend another second in their company. So you are Amber Rudd, and you lie to Jacob Rees-Mogg that you forgot something and will have to pop back to your desk.
This is actually a really nice photo of Nicki Morgan, isn't it? It looks like the picture from a Chelsea flower show brochure. Or the promotional material showing off the communal gardens of a new development of flats. And by "communal" I mean only for the private owners and not the affordable tenancy holders, who are allowed to play with nearby drainpipes and I guess maybe the odd bollard. But really they should stay indoors, curtains closed.
Here we have something with a garbage raison d'être and a street sweeping cart, in a joke that was far too easy to make.
Other papers have been more supportive, but the London and Edinburgh Editors seem to disaree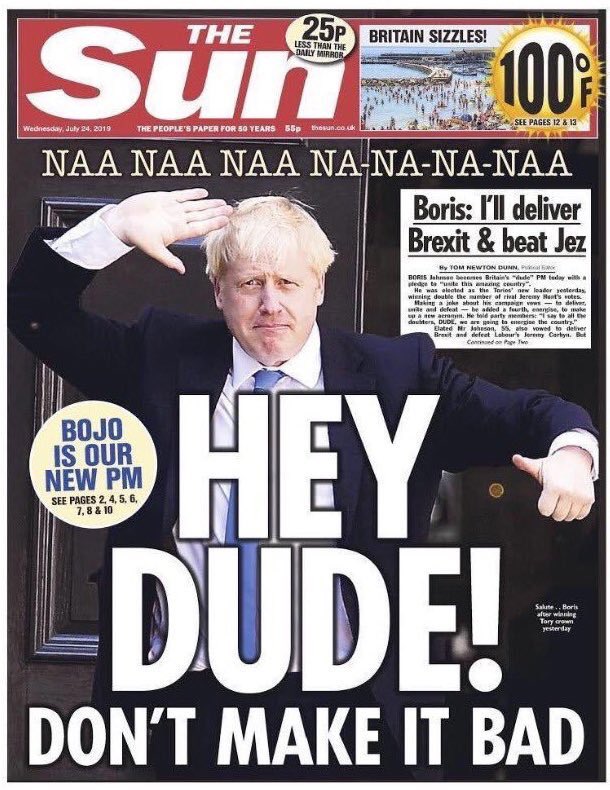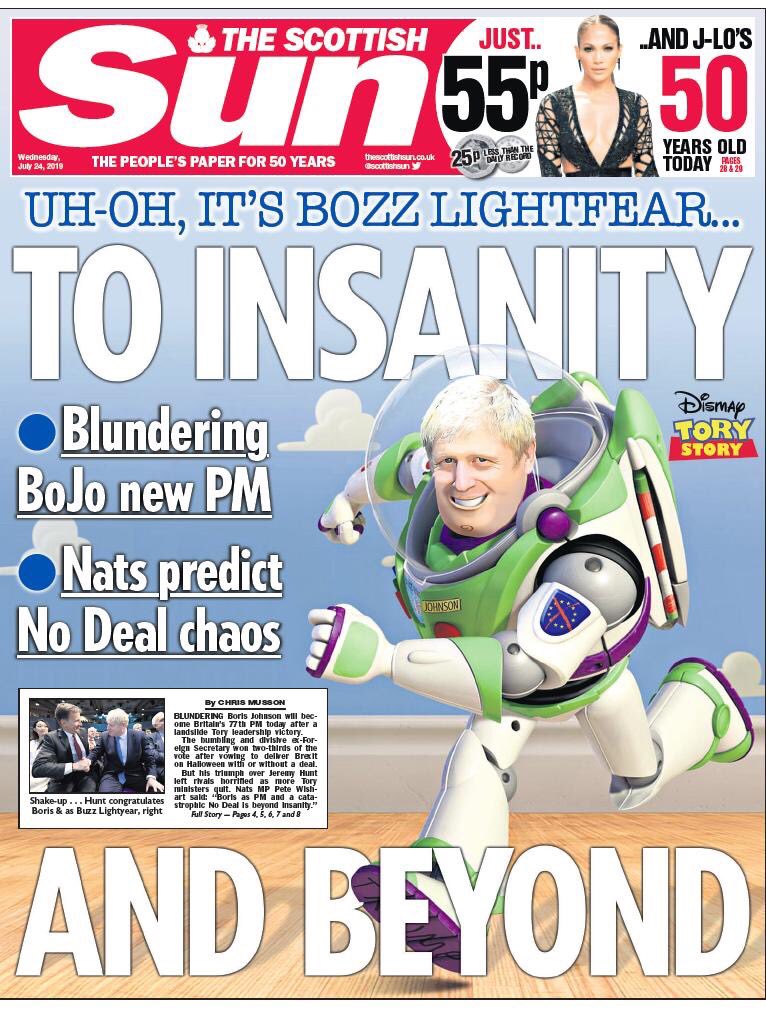 Of course newspapers like to believe they lead public opinion and they may either turn against Johnson or suddenly find that he is a shrewd politician leading us into a new Golden age.
It's nothing new (though this may be
Allegorical
The French newspapers which, in 1815, were subject to the censor, announced the departure of Bonaparte from Elba, his progress through France, and his entry into Paris in the following ingenious manner:
— 10th, the Corsican Ogre has landed at Cape Juan
— 11th, the Tiger has arrived at Gap
— 13th, the Tyrant has passed through Lyons
— 14th, the Usurper is directing his steps towards Dijon, but the brave and loyal Burgundians have risen en masse and surrounded him on all sides
— 18th, Bonaparte is only sixty leagues from the capital; he has been fortunate enough to escape the hands of his pursuers
— 19th, Bonaparte is advancing with rapid steps, but he will never enter Paris
— 20th, Napoleon will, tomorrow, be under our ramparts
— 22nd, His Imperial and Royal Majesty, yesterday evening, arrived at the Tuileries, amidst the joyful acclamations of his devoted and faithful subjects.


With the most right wing Cabinet in recent years and with the possibility that a Post-Brexit Britain scrapping the Human Rights Act, I m not sure that even The Guardian will not change its tune.