If there was a list of Welsh MPs, who I would look forward to losing their seat at the next General Election Rhondda's Chris Bryant would even beat some Tories.
He is to mu mind and a Red-Tory anda Unionist and if Plaid are to make a long awaited breakthrough at Westminster elections then the Rhondda should be one of the first to fall.
I do share with him the views that we should Remain in the European Union however, but even if I didn't I hope that I would join in condemning the news that vandals have painted the word "traitor" across the front of the pro-EU MP's constituency offices.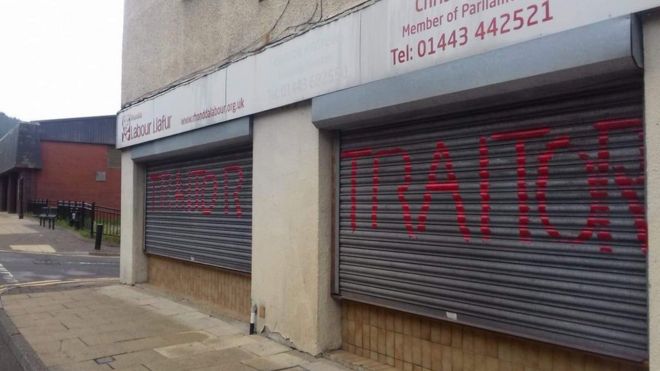 Labour MP Chris Bryant, who wants the UK to remain in the EU, said the graffiti on his Tonypandy offices would not change his mind on Brexit.
In a defiant tweet on Saturday morning, the Rhondda MP said the people who painted the abuse "underestimate" him.
South Wales Police said it was investigating and asked anyone with information to come forward.
Mr Bryant blamed "anyone who has poured a bit more bile into the pot" for contributing to a lack of respect.
None of his staff were in the building at the time, but he said it was unpleasant for his staff who had already faced abuse since the referendum in 2016.
He had already increased security at his Dunraven Street office, he added.
"I don't know why anybody would think spending 10 minutes spray-painting names on a shutter will change my mind," he said.

"We didn't used to be a democracy like this - we used to respect each other's opinions."
He told BBC Wales he expected the hostile political atmosphere to continue until Parliament comes to a decision on Brexit.
MPs and campaigners have offered their support on social media.
Former Labour MP Chukka Ummuna tweeted: "This vile intimidation and abuse is appalling. Good for you @RhonddaBryant for standing up to it and for defending our democracy".
Others joined particularly Plaid's Rhondda AM Leanne Wood.



LeanneWood

@

LeanneWood

·
We disagree politically, but I absolutely condemn this vandalism. I hope that you and your staff are all ok and will feel safe going about your daily work. Best wishes.

#ThisIsNotTheRhondda


Quote Tweet
Of course who ever carried out the vandalism in the Rhondda found some support
The people of Rhondda voted Leave by 60.4% You are a traitor to the people. And to democracy. You underestimate the people.
#Brexit
It is only three years since the murder of Jo Cox whose killer targeted Cox, a "passionate defender" of the European Union and immigration, because he saw her as "one of 'the collaborators' [and] a traitor" to white people.
and the vile Hopkins uses the same Language.
It would be a great gesture to see members of other political parties joining in in cleaning up the vandalism of Mr Bryant's Constituency Office.
A message needs to be made that we may be divided on many issues, but united against the hate promulgated by the perpetrators of this vandalism.