For a number of reasons I couldn't attend the First Welsh Independence march in Cardiff yesterday, though I may in the years to come like many claim "I was there".
Clearly it was a success and it looks like it will grow and grow like it's counterpart in Scotland reach tens of thousands in years to come.
The BBC only refers to "large crowds" whilst Wales Online reports that



There has been a huge turnout of people from across Wales in Cardiff today to take part in what is being described as the "first ever" march for Welsh independence.

The event was organised by All Under One Banner (AUOB) Cymru and was supported by YesCrymu, Awoken Cymru and Welsh Football Fans for Independence.
Estimates suggest that far more than 1,000 people, and possibly as many as 3,000, have attended and organisers hope the march will get more people talking about Welsh independence in what they described as a "resurgence of interest".
Given its success although it may take a few years i suspect that in the very near future the organisers will have to sek a bigger venue in which to end the march.
Certainly there seems to be a new spirit of optimism among the National Movements in Wales that All Under One Banner (AUOB) have exposed.
Llywelyn ap Gwilym, a spokesperson for AUOBCymru said:
"The debate around Wales' constitutional future has intensified since the vote for the UK to leave the European Unio

"Several groups which believe that Wales and its people would have a better future as an independent nation outside the UK, including YesCymru and Undod, have strived to engage the broader public and bring the debate into the mainstream. There is an increasing realisation that independence is normal."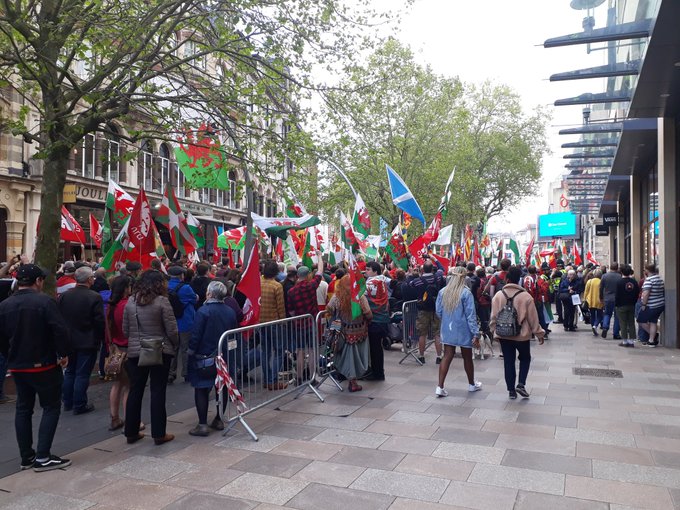 This youngster first vote could be for a candidate in afor an Independent Welsh Parlimet.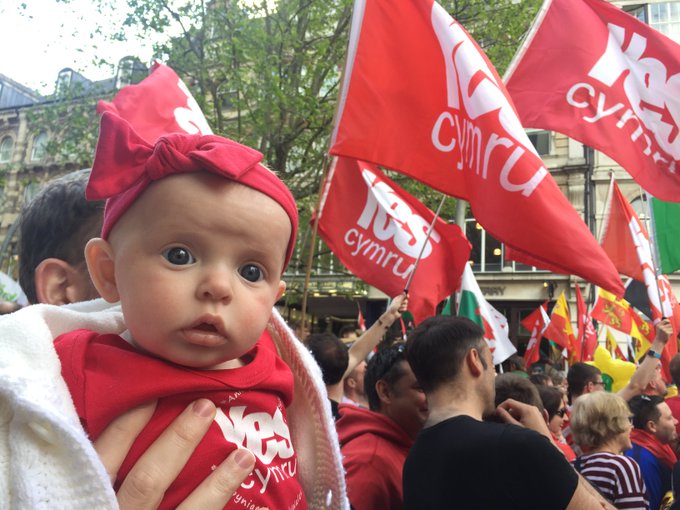 We have seen many false dawns, but although we have along way to go to match the crowds in Scotland and Catalonia, the idea that we would not be too far behind them may not be as fanciable, that I and many others have thought.