I took some stick yesterday (some of it tightly) after i put this on Twitter and got
the sort of reply
Some did correct me over the spike in Wrexham
You can't blame him. The blame rests purely with Rowan Foods, PHW, HSE and the inept duo of
and
. Well done to
and
for shaking them .
credit her also. I will be voting for her at the Senedd elections
Nevertheless although in
June, Public Health Wales confirmed that outbreaks of Covid-19 had occurred at two meat processing plants in north Wales.
One was declared at the 2 Sisters factory in Llangefni, Anglesey, while the other was at Rowan Foods on Wrexham Industrial Estate.
To date there have been more than 300 cases identified at Rowan Foods following extensive testing of staff and tracing of their close contacts.
This outbreak was certainty a contributing factor to the Covid-19 stats for Wrexham spiking in June and into July.
Dr Chris Williams, incident director for the coronavirus outbreak response at Public Health Wales, said the testing programme at Rowan Foods had now concluded.
They have done all the tests they were going to do, and my understanding is that there are now 313 positive cases identified there," he said.
"All the cases that we find are transferred into the 'Test, Trace, Protect' programme so that they will find their close contacts, households and otherwise and ask them to isolate for 14 days, and then if they become symptomatic to test them as well."
Dr Williams said that while the outbreak was associated with the plant, the virus was likely to have been brought in by someone in the community.
He said that public health infection teams started noticing a "pattern" of cases associated with Rowan Foods which prompted the need for all employees to be tested.
It is likely that the current high cases in the Wrexham and Flintishire area are still connected to the packing plant
nevertheless Wales Online report
Hundreds of drivers were fined for travelling into Wales' tourist hotspots during lockdown - including from England, Scotland and the Republic of Ireland.

More than 600 fines were issued to people from England by the four forces.

But the majority of tickets were issued to drivers from within Wales - a total of 1,168.

Most fines were issued by Dyfed Powys Police, which issued 401 tickets to travellers from England.

North Wales Police ticketed 189 drivers from England. It was the only force to fine more English than Welsh drivers.

South Wales Police and Gwent Police ticketed 19 and eight drivers from England respectively.

But only 36 residents of Wales were fined for travelling into England.

The figures, released on Monday by the National Police Chiefs Council, cover the period between 27 March and 25 May.

During this time people were encouraged to not travel further than five miles from home.
The latest figures from the Office for National Statistics puts the total number of deaths at 2,501, as it includes all registered deaths in care homes and people's homes - and when doctors suspect coronavirus has been a factor.
The PHW figures do not include deaths of residents from Powys in hospitals in England.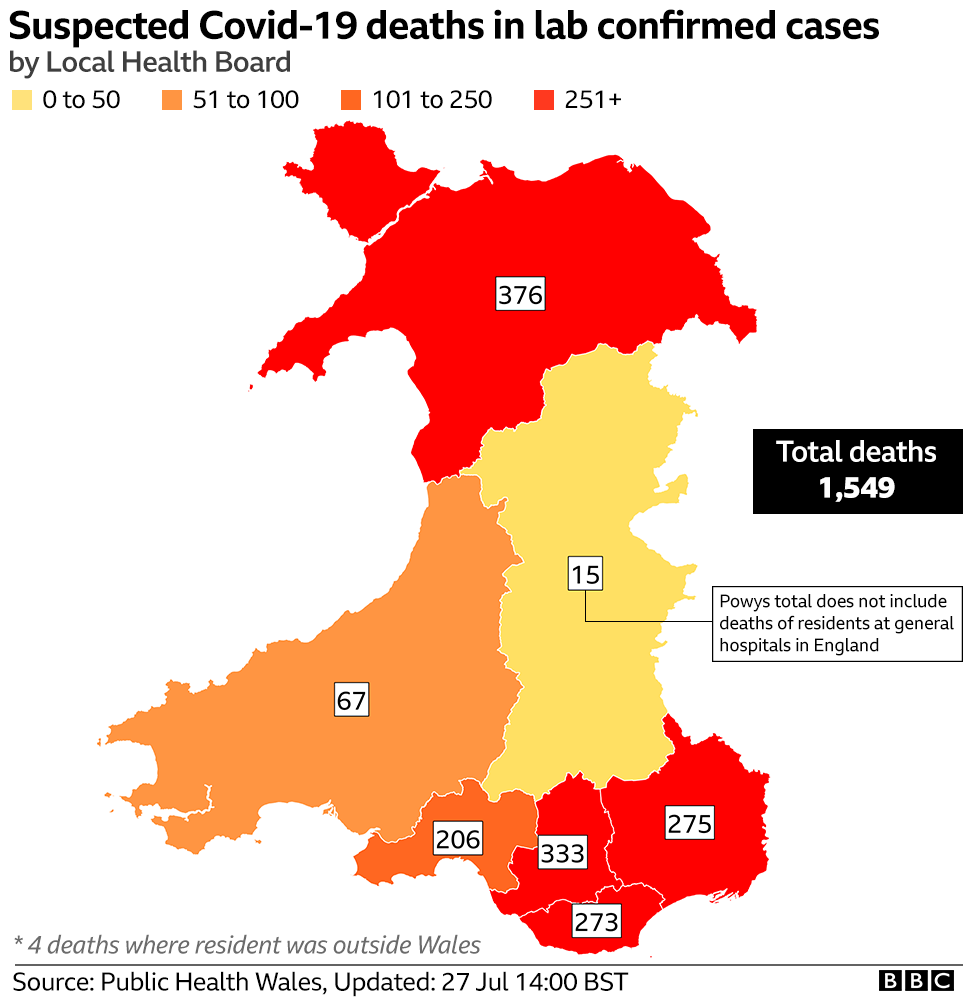 Chris Williams, PHW's incident director for the pandemic, reminded the public that face coverings are now mandatory on public transport in Wales, and also reiterated the Foreign Office request for all visitors returning from Spain to self-isolate for 14 days.
He also said there was "no significant updates" on outbreaks at food processing sites in Llangefni on Anglesey, Ebbw Vale in Blaenau Gwent, and at plants in Wrexham and Merthyr Tydfil.
Officers often reported drivers from England were unaware there were different rules in Wales.
The BBC Website provide an interactive map
cases and deaths in your area?
I still stand by my main argument that Boris Johnson's early easing of Lockdown in Wales together with the failure of the mainstream media to point out that Wales had not completely and still have not followed suit.
f