AMs are to be recalled from their summer break after Boris Johnson asked the Queen to suspend Parliament in line with the Scottish
Parliament
Welsh Pro-EU politicians have reacted angrily to the prime minister's decision, which could make it difficult for MPs to stop a no-deal Brexit.
First Minister Mark Drakeford said the "constitutional crisis which now faces Wales" meant AMs needed to be recalled.
But Welsh Tory assembly leader Paul Davies said the prorogation of Parliament was normal procedure.
MPs are due to return from their own summer break next week, but the PM's request means there will be less parliamentary time in the run up to Brexit day, on 31 October.
The assembly's recess was due to end on 17 September, but AMs will now hold a day of debate in the Senedd on 5 September.
It seems that Ukip's Gareth Bennett is having none of it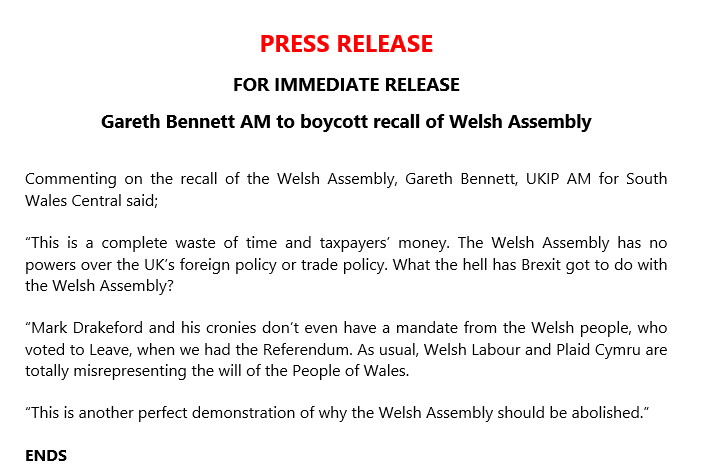 Since Mr Bennett lives in Cardiff it would be no great shakes to pop off to the Assembly and defend the suspension of one our legislatures , but apparently not.
He appears to have met with little reports as his twitter account shows
Mr Bennett is of course is echoing Prime Minister Johnson in refusing to defend the whole concept of a No-Deal Brexit .
They are both sticking their fingers in their ears and shouting "I can't here you.
But as the protests mount with numerous gatherings throughout the UK including about 2500 in Aberystwyth (and the students are not back yet) it does seem many have not fallen for Prime Minister
rubbish that

suspending parliament allows him to set out a fresh domestic agenda in a new Queen's Speech, due to take place on October 14.
Indeed the whole sorry mess the Tories have made over Brexit started with Theresa May's "Brexit mean Brexit ", speech when instead of reaching out to MPs and getting a decent leave agreement, she empowered the likes of Johnson and Rees-Mogg and the European Reform Group who were a minority in thier party
As Mitch Benn puts it