I am not a great fan of Jeremy Corbyn largely because his stand on Brexit (whatever that is) and because he is also a Unionist who doesn't even seem to understand what devolution is about
Never the less I view the report by political betting on Corbyn's approval ratings with disquiet
Ipsos-MORI, has been polling UK politics since 1977, and throughout that time has been asking in exactly the same manner if those sampled are satisfied/dissatisfied with a range of political leaders. We had the latest numbers for Jo Swinson yesterday. Today the Corbyn figures are released and have the LAB leader with a dissatisfied rating of 76% with just 16% saying satisfied.

Amongst those who voted LAB at 6E2107 33% said they were satisfied with 60% saying satisfied. Compare that with the 42% satisfied to 35% dissatisfied that the same segment recorded for Jo Swinson.

As Keiran's Tweet points out these are the worst figures any opposition leader recorded by the firm and his Tweet looks at the record lows for all who've held that post for more than half a century.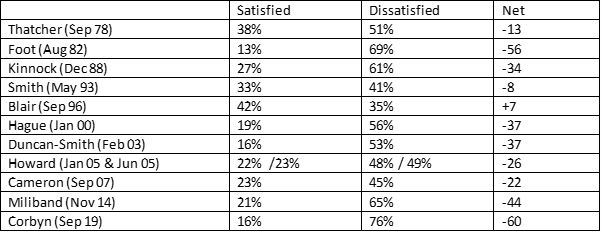 The LAB leader needs to stage a recovery far far in excess of what happened at GE2017 for his party to have any chance. Then Corbyn started the campaign with a net rating of -25%. That compares with today's net rating of minus 60
There does seem a higher percentage of disapproval for Labour Leaders those from the Tory Party and we can well ask if the dominance of a Right-Wing Media is setting the public perception rather than reflecting it?
The only one on the list to receive a + is of course Blair, and he was never a figure of the Left and one wonders if the media reaction to him and to some extent John Smith short tenure before his untimely death was due to a feeling among the Press Barons that it was time to change government now that Margaret Thatcher had gone.
You can only wonder Thatcher had gone earlier if Neil Kinnock , would have been rehabilitated, in the eyes of the media.
With the Tory Prime Ministers Cameron , May and now Johnson competing for the title worst in history. the Labour should be well ahead .
But then Corbyn is not the one that te Right Wing Media and establishment want .