Twenty four UKIP MEPs were elected and the party won 27.5% of the vote - an achievement its then leader Nigel Farage described as "historic".
UKIP's success in these elections was one of the factors behind David Cameron promising a referendum on Brexit - as he feared losing more Conservative voters to UKIP.
However five years on from that election, only four of those 24 MEPs still represent the party.
So, where and why did they all go?
Ten sit as MEPs for the Brexit Party - a new group launched by Nigel Farage
Seven sit as independent MEPs
Amjad Bashir has joined the Conservatives
Patrick O'Flynn has joined the Social Democratic Party and is planning to stand as a candidate if there is a by-election in Peterborough
Roger Helmer has retired
Only four Stuart Agnew, Raymond Finch, Mike Hookem and their leader Gerard Batten remai in UKIP has confirmed that three of them - Mr Agnew, Mr Hookem and Mr Batten -
Of course some of Ukip have been reborn as the Brexit Party.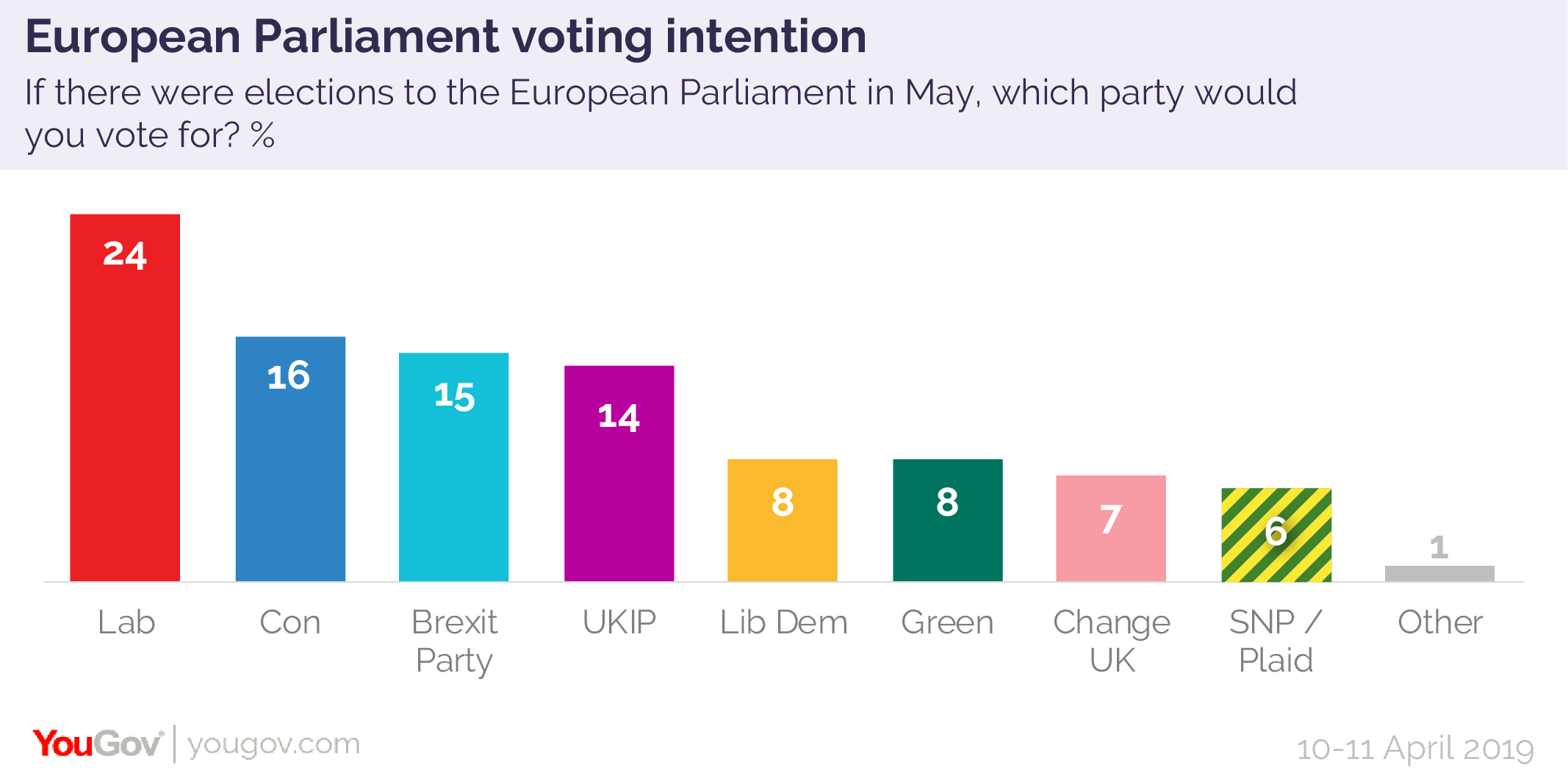 Meanwhile, the Greens and the Lib Dems are on 8% each and Change UK is on 7%.
We've seen a similar drop in support for the two main parties in our standard Westminster voting intention: the two party vote share has dropped down from over 80% in the 2017 election to just 60% now, with Labour on just 32% and the Tories on just 28%.
Farage's party currently finds itself in third place on 15%, within the margin of error of the Conservatives on 16%, but currently a way behind Labour who are on 24%. However, there are many reasons to believe they will make up that ground over the coming weeks, and Farage's gamble looks like a fairly smart bet.
For Remain supporters the parties fully supporting a second vote are trailing and it could be that Leave supporting parties (and to some extent this includes ) Labour , will take the top four places.
Such a result would certainly be seen by Hard Brexiteers are vote for a no deal Brexit.
Far from seeing the demise of Ukip the European elections , should see them return even if the majority are under the same name.
Those in the Brexit Party will of course claim that they have replaced Ukip and do not share the drift to far right in that party,
Maybe they are hoping that it will see Lexiteers , supporting them. They have one convert.
I doubt if the majority of Brexit Party candidates will prove any different to Ukip and many will have far right views. What a victory for them will see is confirmation that the UK has moved to the far right in some quarters and those who, oppose it, really have o get out and vote next month,