There is an interesting opinion piece by Laura McAllister on Wales Online entitled.
Laura concludes in a well thought out argument
The Euro elections showed an admirably clear Plaid stance on Brexit. It now needs to show the same on independence, developing an honest, evidenced, costed position with some clarity on what independence means in a rapidly-changing, global backdrop of splintered sovereignties.

The rise of interest and serious interrogation of Welsh independence is overdue and how it plays out will be fascinating. It's no surprise that people are interested in the indy conversation given the constitutional turmoil of the past three years.

If Scotland goes its own way and a united Ireland looks on the cards, the prospect of a binary choice between an independent Wales or us being a tiny, mostly-ignored annex to England, the answer to the indy question will increasingly be "why not?", instead of "why?".

It's also to be hoped that indy analysis and exposure will be more trenchant and less pejorative, especially given the old unionist v nationalist schism now seems ridiculously anachronistic.

Nevertheless, Plaid'll need to be careful not to be sucked back into its traditional, cosy focus on matters constitutional. First presenting a credible, competent team that looks like a government-in-waiting is more important than focusing on independence.

For most of its near century-long existence, Plaid has come across as a party ambivalent about governing, facing voters unconvinced of its government credentials.

The next two years present probably Plaid's best opportunity to cast away its little-but-likeable, principled-but-polarising image and become a serious contender to have a go at governing Wales.
Plaid may well have taken the first step in the news that S

outh Wales East AM Delyth Jewell has been selected to contest her home constituency of Caerphilly for Plaid Cymru for the upcoming 2021 Assembly election.
Caerphilly is likely to be a key battleground seat at the election where Plaid Cymru need a swing of 2.90% – or 1,575 votes – to unseat the Labour Party's Hefin David.
The latest polls project Plaid Cymru will win Caerphilly – as well as Blaenau Gwent, Cardiff West and Llanelli – at a Welsh Assembly election.
Plaid Cymru said Delyth Jewell was given the unanimous support of the local constituency party during an event held last night at Caerphilly Rugby Club.
She is currently a regional Assembly Member for South Wales East, becoming an AM in February of this year after the Plaid Cymru AM Steffan Lewis tragically died of bowel cancer the previous month.
Speaking following the result of the vote, Delyth Jewell said she was "delighted" at being given the full support of her fellow members in her home constituency of Caerphilly.
"I wish to thank all my supporters for the faith they've invested in me," she said.
"I have every intention of winning the seat for Plaid Cymru for the first time ever in the Assembly election in two years' time and to be a champion for local services and the people of Caerphilly in our national parliament.
"The people of Caerphilly are crying out for change following twenty years of weak Labour representation that has not delivered for the area. I am that change.
"I got into politics because I want to make a practical difference to people's lives and it is an honour for me to have opportunity to do so in the area where I was brought up."
Delyth Jewell has clearly impressed since taking up her seat , though at the time she faced the crap from right wing nationalists
As I posted at the time it was typical response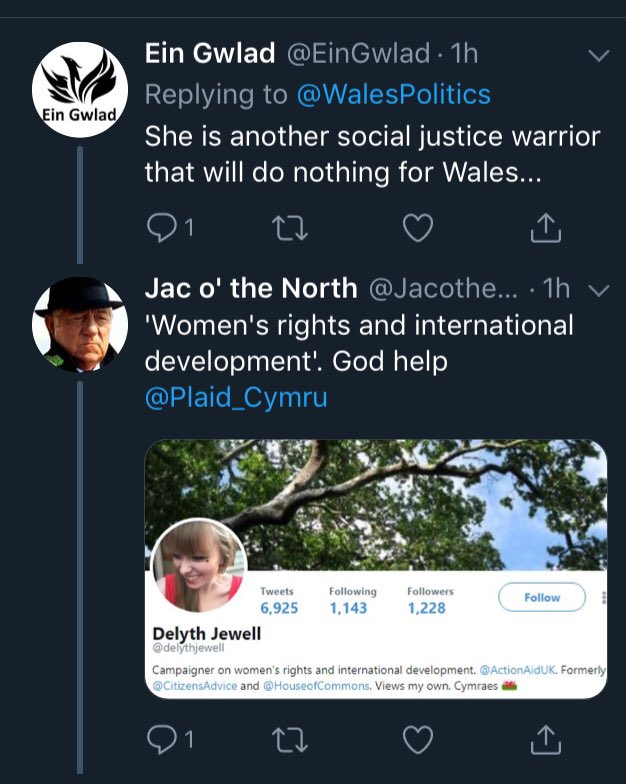 If they had done any real research then they would find ironically that

Delyth Jewell won the Overall Researcher of the Year award at Westminster. in 2014 whilst working for the then Plaid MP on his stalking bill
The panel of judges, made up of MPs, peers and the National Chairman of the Federation of Small Businesses which sponsors the event, said that her work on the stalking bill "went far beyond what would be asked of a researcher".
Even Jac O'North was when faced with the facts seems to have softened his misogyny
Last night, on learning that Delyth Jewell was to succeed the late Steffan Lewis as the AM for the South Wales East region, I checked her Twitter account and put out a tweet which was soon 'answered' by Leanne Wood AM, the former leader of Plaid Cymru.
Delyth Jewell's Twitter account describes her thus:

"Campaigner on women's rights and international development. @ActionAidUK Formerly @CitizensAdvice and @HouseofCommons".

So she's from the third sector and has, presumably, worked as a spad, unless 'House of Commons' means that she was employed directly by that source of endless entertainment.

click to enlarge

On reflection, the tweet I put out could have been worded better, and I shall clarify below why I have misgivings about Ms Jewell's elevation. But no disrespect was meant to Ms Jewell, personally, for I don't know her. (Though that never seems to deter my detractors.) She may turn out to be an excellent Assembly Member, but her background, and professed interests, do not fill me with confidence, as I shall explain.
But then, some might think that Leanne Wood's tweet was a little OTT as well, maybe abusing her position of influence. Perhaps it even qualifies as the kind of 'bullying' we hear so much about from Cardiff Bay (another source of endless entertainment).
Now let me move on to my real target.
Of course he then moves on to his usual rubbish but \i wonder if he can at least now admit that Delyth has proved to be an excellent AM.

?
To my mind Delyth is the ideal candidate , for Plaid Cymru and bearing in mind Laura McAllister argument Plaid must replicate such quality in a number of seats.
Because Plaid task in the next two years is to not only increase its number of seats in the next Assembly elections , but to ensure those who are elected are also of a high standard that they look like capable of governing the Nation.
What could be disastrous for Plaid , is a sudden swing tothem that sweeps them into power with candidates who are unprepared for goverment or who as happens in the past ,don't really share Plaids' values and are merely anti-labour.
It could be that a Populist candidate can win for Plaid in seats that are not on their hit lists, but they may not remain in the party for long when elected.