The Lib Dem candidate Beatrice Wishart may have fought off a strong challenge from the SNP to hold Shetland in a Holyrood by-election.
However it was quite an achievement for the SNP to obtain a 14% swing despite being the incumbent government in Holyrood for over 12 years
She succeeds Tavish Scott, who had been MSP for the constituency since 1999 in what was Scotland's safest seat.
Ms Wishart polled 5,659 votes, ahead of SNP candidate Tom Wills on 3,827, a majority of 1,837.
The Lib Dems saw their majority more than halved from 4,895 in 2016 as the SNP benefitted from a 14.4% swing.
With 11,835 votes cast, the turnout was 66.5%, up from 62% in the 2016 Scottish Parliament election.
This was one of the safest seats in the Scottish Parliament and clearly although they poured resources into but they didn't win to achieve a 14.4% swing.in a seat , that has been been part of the Liberal stronghold of Orkney and Shetland with only a few blips since we had any form of universal franchise.
Ms Wishart said she was honoured "to make a little bit of history by becoming the first female parliamentarian in Shetland" after a "roller-coaster" campaign.
"Shetland has once again rejected Scottish nationalism and shown that it has not been taken in by the bullying tactics," she said.
"My work will start on Monday to get the Scottish government to take action on its empty promises for fair ferry funding, to improve nursery provision, mental health care, broadband - the key strands of my positive campaign for Shetland."
I am not sure what she means by broadband as its not a devolved issue in my understanding.
Not sure about positive campaign as well
Lib Dem

MSP

Alex Cole-Hamilton was criticised for a tweet about a conversation between

SNP

youth activists which he "overheard" in Lerwick.
The Edinburgh Western MSP posted: "Overheard conversation yesterday in Lerwick: @theSNP youth activists out canvassing, resting on a wall and looking at 3 blocks of flats. 'F this, can't be bothered, let's just mark them all as SNP and head back the office.' Memo to SNP: don't rely on your data #Shetland".
In response, SNP staffer Chris Jones called the post an "awful smear" and said the activists weren't in Lerwick yesterday.
The Holyrood by-election was sparked by the resignation of Mr Scott, who quit politics in July to take a job with Scottish Rugby.
Mr Scott, a former leader of the Scottish Lib Dems, had held the seat since the creation of the Scottish Parliament in 1999.
Finally the poor old conservative saw his main plank taken away from him when his leader resigned on the day of the elction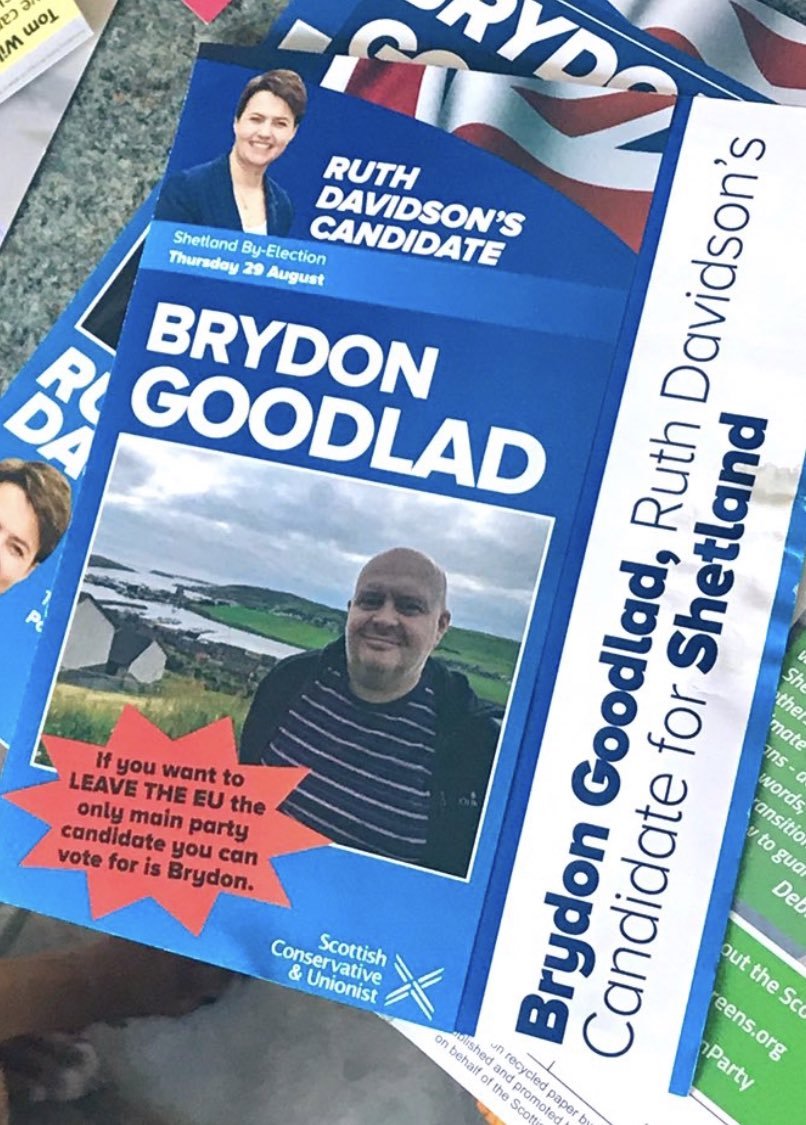 Stil at least it didn't have Boris Johnson on it.