The Unionist Parties have been somewhat horrified with the fact that the Corana-19 virus has led to greater confidence in the devolved legislatures than that of Westminster.
The people of Wales and Scotland have more confidence in their government's handling of the Covid-19 than people in England have in the UK Government's handling of the coronavirus, according to a study.
University College London have been tracking people's overall confidence in their governments since 21 March. Their study shows a growing divergence in confidence in Wales and England.
Although Wales began the study with less confidence than England in their own government, confidence in the Welsh Government has increased in Wales while confidence in the UK Government has fallen in England.
Confidence in the Welsh Government in Wales is now at 4.5 out of 7, up from 2.5 at the start of the study, while in England it has declined from 4 at the start of the study to 3.5 now.
Confidence in the Scottish Government in Scotland is over 5.

A growing majority of Scots now support independence, according to a new poll.It reveals that 54% would vote to leave the rest of the UK, while 46% would want to stay, in the event of another referendum.


The Panelbase survey for the Business for Scotland organisation surveyed 1070 Scottish residents over the age of 16.
Even in Wales

: when asked
"If there was a referendum tomorrow on Wales becoming an independent country and this was the question, how would you vote? Should Wales be an independent country?" There was an move to support for Independence
Yes: 25% (+4)
No: 54% (-2)
Would not vote: 7% (-1)
Don't Know: 13% (+1)
Refused: 1% (-2)
The Welsh Conservatives or rather the Conservative Party in Wales have been clearly alarmed by the support for how our Senedd is handling the crisis with increasing demands for us to follow the Westminster (English) path with this ridiculous tweet. yesterday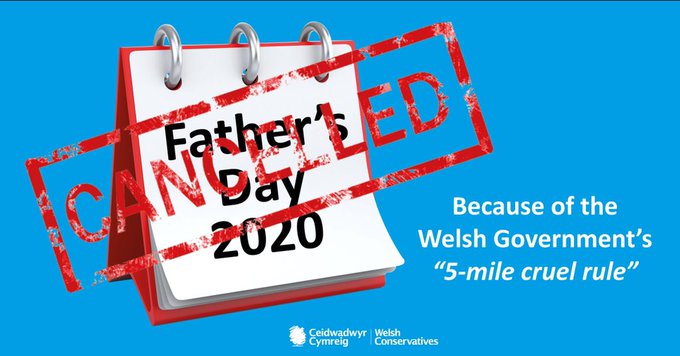 One wonders if the Tories were in charge of the Senedd whether they would look to the advice in Wales or simply follow Boris Johnson's disasterous policy in England.
You can just imagine the Secretary of State for Wales attending the Tory First Minister's press conference and handing a piece of paper which replicates the previous one by Boris Johnson except for replacing references to Wales for England.
For Labour First Minister Mark Drakeford there is a harder problem . He is not seeking the support of a minority discontented with his government and with his "England is not a Template" statement has tried under immense pressure to steer his own course.
However he realises that if people perceive that we in Wales can succeed in doing things differently , then they might well look at other areas and ask "Why must we always do what England tells us?
So Drakeford keeps insisting that Wales could not have handles the Corna-19 Virus on its own saying
We can't have a system where a guard has to walk up and down a carriage shouting for people to put their face masks on [when they cross the border] for example.
But frankly we can the whole of Europe has countries wit boarders which have had different responses within the EU and outside.
What is happening on the boarder between Sweden (EU) and Noeway where the former seems to have adopted a "herd immunity" response. (which has failed)
Sweden's lack of strict lockdowns contrasts sharply with the rest of Europe, and it has yet to see a downturn in COVID-19 cases. The country — which has a population of about 10.2 million — has seen 15,322 cases and 1,765 deaths from the virus so far, making the death rate per capita at 17.3 deaths per 100,000 people.
Sweden's Nordic neighbors Norway and Finland approached the virus differently, and it could be why they're facing just a fraction of COVID-19-related deaths.
Norway, which has nearly 5.4 million people, has seen 7,191 cases and 182 deaths, with a death rate per capita at 3.37 deaths per 100,000 people. Finland, with a population of 5.5 million, has seen 4,014 COVID-19 cases and 141 deaths, with a death rate per capita at 2.56 deaths per 100,000 people.
Even the fact that Norway is not like Sweden in the EU has not meant that the boader is not fluid reflected by the

The location of the Nordby centre, which houses 110 shops and restaurants, is everything: it is minutes from the Norway border and was built to attract shoppers from Oslo and southern Norway with offers of cut-price meat, cheese and sweets. Norway this week reopened its borders to the rest of the Nordic region, but kept them closed to mainland Sweden because of the stubbornly high infection rate, meaning any Norwegian who shops at Nordby needs to go into quarantine for 10 days afterwards.