Opposition parties obviously feel that they need to be just that an opposition no matter what.


The "Welsh" Tories however seem to feel that this includes attacking the Labour Government in the Senedd over its response to the Covid-19 virus , but of course this leaves them with the dilemma that in doing so they may inadvertently criticise the Westminster Government for doing exactly the same thing.


No problem. they have a simple solution."Attack the very principle of not following the Tory Government in its response in England" ignoring the results of doing so.


This has lead Tory leader in the Senedd Paul Davies, ( I am never quite sure of how much he actually is their
Welsh Leader) to make the ridiculous statement that ,


'Sometimes the border between England and Wales feels like a Slate Curtain.

He writes
There is a very big difference in the way that Covid-19 is being managed in Wales compared to England. It's about the idea of freedom.

When Boris Johnson took the UK into lockdown, you could tell he had wrestled with doing so. He had appealed to people to keep distances and wash hands. He intrinsically knew that British people value freedom.

Everything about those decisions depicted an anguished man. He wanted to be able to trust us to do the right thing and introduced lockdown when he could see that too many of us weren't.

Ever since we passed the peak of the infection rate, governments in all parts of the UK have acted cautiously in relaxing the lockdown. I cannot and will not criticise that principle. All governments, regardless of political colour, are careful about the decisions they take. Nobody wants more people to be infected and die, but as we watch the lockdown being rolled back it is quite clear this is being done deliberately slowly in Wales and done in a very peculiar and unscientific way.

For the last week, people in Wales have been able to visit others in another house, but only if that house is less than five miles away. This cruel rule is being pilloried here for lacking any sort of scientific basis. It discriminates against some families and not others. It also penalises those living in rural communities, for whom five miles from home might not even get them to an A-road.

Yet even if you're lucky enough to live within five miles of your family and friends, the Welsh Labour leader Mark Drakeford had something to say about what you should and shouldn't do when you got to see people you hadn't been able to meet in three months. Mr Drakeford even told Welsh people not to use the loos in each other's houses and to go home if you needed to.

He also said to the Welsh media that "Running to people's houses" and "… having a beer and it all breaking down – that's definitely not what we are proposing in Wales."

So there we have it: Labour in Wales doesn't even want you to have a drink in the garden with your family and friends.

Somewhere along the way, the only Labour government in power anywhere in the UK has forgotten this lockdown is about controlling Covid-19, not about controlling people's lifestyles.

To make matters worse, the Welsh Labour Government has meanwhile been permitting some activities which it deems morally acceptable.

So we had garden centres and libraries open before England, but we still don't have even a pencilled in date for retail shops. Labour has never really respected or supported consumerism. It's better to keep shops closed for as long as possible because the Welsh economy can always be bailed out by the English one further down the road.

There seems to be absolutely no science behind some of the choices being made by Welsh Ministers which begs the question why some hobbies and activities are being favoured over others.

We can't open car showrooms to help save the motor industry, but if you're a cyclist you continue to get star treatment with the Welsh Government. The lockdown rules here in Wales allow you to cycle 40 miles but not to drive beyond five miles.

Please don't misunderstand me. Permitting a 40-mile bike ride is a good step forward, but doing so while not freeing up other safe outdoor activities looks incredibly bizarre.

You can now cycle huge distances here, yet Wales is the only European country outside Putin's Russia where you are not permitted to play tennis, a sport involving two people which, by its nature, involves people keeping more than two metres apart.

In England, the Labour Party has finally escaped the clutches of Corbynism, but this is not the case in Wales.

First Minister Mark Drakeford was the first senior politician in Wales to back Corbyn for leader back in 2015. He stood for the Labour leadership in Wales backed by Welsh Labour Grassroots, the Momentum faction in Wales.

As recently as a couple of weeks ago he instructed the Welsh Labour representative on Labour's ruling NEC to back the far left candidate over the one preferred by the Starmer grouping that now control the Labour Party. Mark Drakeford is still Corbyn's man in Wales.

So our shops remain closed, our freedoms curtailed, our choices limited – an attitude of "government knows best" not just about health, but about other aspects of life too. The hard left is in the ascendant in Wales and in power too. Mr Drakeford has already tried to ban vaping, and next year he plans to ban smoking in town centres too.

The preachy, sanctimonious politburo that runs Wales has definitely enjoyed locking down people's lives and freedoms a bit too much.

To paraphrase, from Connah's Quay on the Dee to Chepstow on the Wye, sometimes the border between England and Wales feels like a Slate Curtain.

It seems that the Tories have been stung by the opinion polls in Wales which have broadly supported the "England is not a Template" stance of First Minister Mark Drakeford.

In article by Dafydd Trystan on the Nation Ctmru Blog Dafydd questions that
Why the latest poll on support for Wales' lockdown may give Conservatives pause

Clearly as he states it does seem that Welsh Opinion is in line with the measures of the Welsh Government rather than that of Boris Johnson's in England.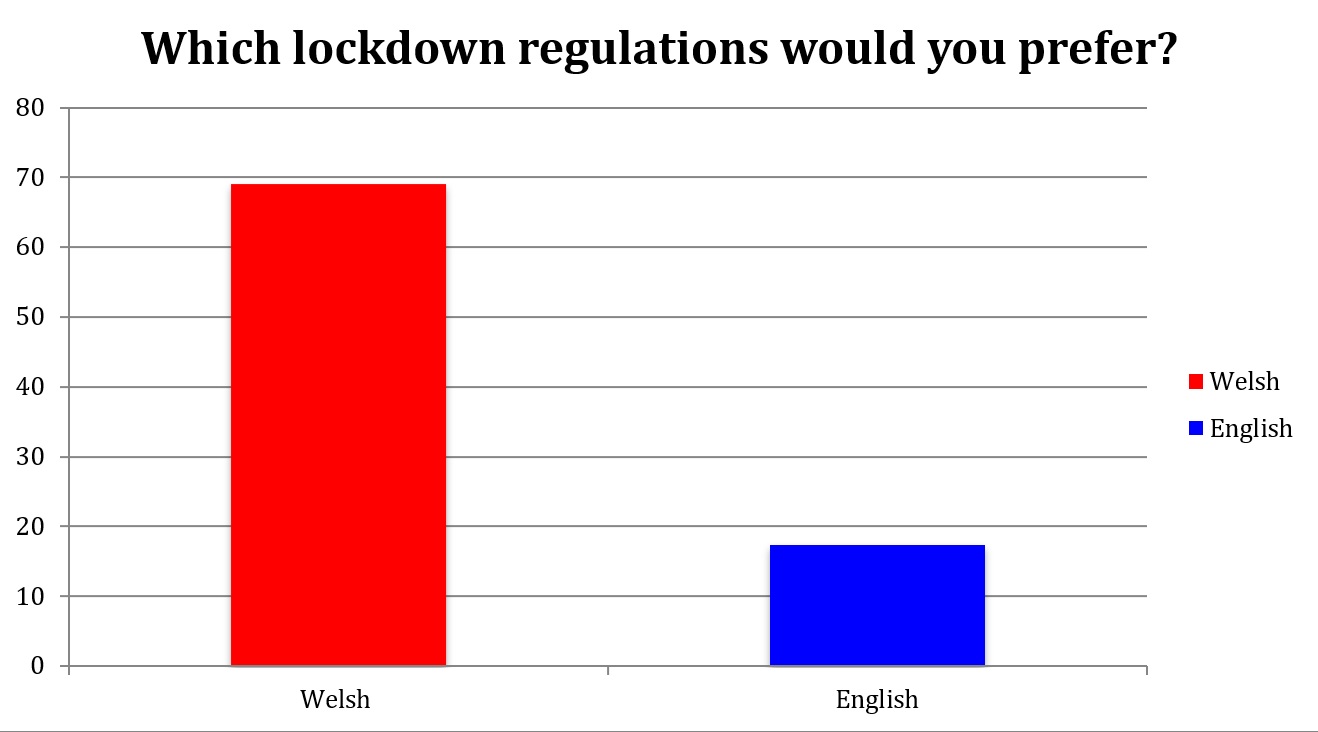 However I disagree with Dafydd that this may make the Welsh Tories in Wales rather they may consider going for a minority vote in the next Senedd elections and tey to promote the ridiculous "Slate Curtain" slogan to garner support from those who want to reverse the devolution settlement and figure that that the Pro-Senedd vote is split between Labour Plaid (and maybe Lib-Dems) and they would benefit from wrapping up all the Ukip/Brexit Party/Abolish the Assembly remnants , which could see them gathering votes and seats even when the vast majority of people prefer the Senedd as it is or want much more when it comes to powers.