I must admit of all the people I follow on Twitter one of the best is the former English Hooker Brian Moore.
I accept his English bias when it comes to commentary on Rugby ,for he is insightful and probably knows what is going on in the Scrums and usually accepts that his side deserve to loose.
But it is progressive quotes on twitter that really warms me to him and he was on form this week with this
This is right wing comedy.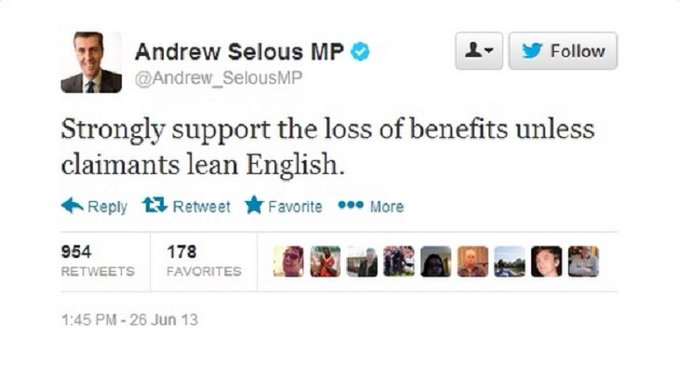 So who is Andrew Selous , well he anything but a comedian though he new director-general of the BBC , would want one like him.
He s is a Conservative Party politician in the United Kingdom who has been the Member of Parliament for South West Bedfordshire since the 2001 general election


Apart from provoking ridicule by making a tweet (subsequently deleted) supporting the removal of benefit entitlement from non-English speakers: "Strongly support the loss of benefits unless claimants lean [sic] English." [12]

He also attracted criticism in 2014 for reportedly telling a meeting that "disabled people work harder because they're grateful to have a job", following a furore over Lord Freud's claim that some disabled people were not worth the minimum wage. Selous subsequently argued that he had simply been trying to convey the message that disabled people were valued by employers, and his observation that disabled people often work harder was supported by a spokesperson for Disability Rights UK.[13]

Selous chairs the All Party Parliamentary Group on Strengthening Couple Relationships, and argues that cross-party efforts to prevent family breakdown can relieve pressure on the care system.[14] He was opposed to the Marriage (Same Sex Couples) Act 2013, arguing that it was directly contrary to what Jesus said.[15]

In terms of Selous' voting history in Parliament, he regularly voted against human rights, equality & LGBT rights, as well as against funding to guarantee jobs for young people. Selous voted in favour of reducing welfare benefits for disabled people, increasing VAT and tuition fees, and ending financial support for young people in education.[16]

In terms of environmental issues, Selous almost always voted against measures to prevent climate change.

Which is bad enough but this bigot who wouldn't look out of place in whatever Party Nigel Farage heads these days
He was appointed Second Church Estates Commissioner, responsible for representing the Church Commissioners in Parliament and in the General Synod of the Church of England, on 10 January 2020.
As an agnostic and someone who lives in a nation where The 1914 Welsh Church Act provided for the disestablishment of the Church of England within Wales, and the creation of an independent but non-established Church of Wales. it's not for me to tell the Church of England , who they should appoint .
However if a member of any other religion who is in the UK Parliament or any other legislature was to repeat the sort of bigotry of Selous he or she would be on the front page of the newspapers even those who repeat it in thier headlines
hey was created in 1983, mostly from the former seat of South Bedfordshire. It was represented by Sir David Madel, a Conservative, from its creation until his retirement in 2001; he almost suffered one of the biggest upsets of the 1997 general election, when the Labour candidate spectacularly slashed his majority from 21,273 in 1992 to just 132. but it is now a safe seat
We often see the portrayal of working class people who support bigoted views.
But it in seats like South West Bedfordshire with a majority of middle class voters who elect people like Selous , and who cannot be voted out even if faced with a progresive coalition.
For those in Wales who consider themselves on the left who support the Union , ask yourselves , whether we should be part of a union not where people like Selous can get elected for we have too many Tory MPs , but where they cannot be defeated.