So the next First Minister of Wales is set to be Mark

Drakeford

.



The Cardiff West AM was announced as the winner of the Welsh Labour leadership contest this afternoon.
It follows a contest to succeed Carwyn Jones, who will formally step down as First Minister on Tuesday next week.
Around 175,000 people were entitled to vote in the contest, either through their membership of the party or an affiliated trade union or group.
Just over half - 53.1% - of the circa 25,000 party members voted in the Welsh Labour leadership election.
A total of 5.67% of the around 150,000 members of affiliated groups including trade unions, voted.
Although some reports seem to claim that less than 13% of Labour Members voted though unfortunately I can't find the actual screen shot from Twitter.
Update this might me it: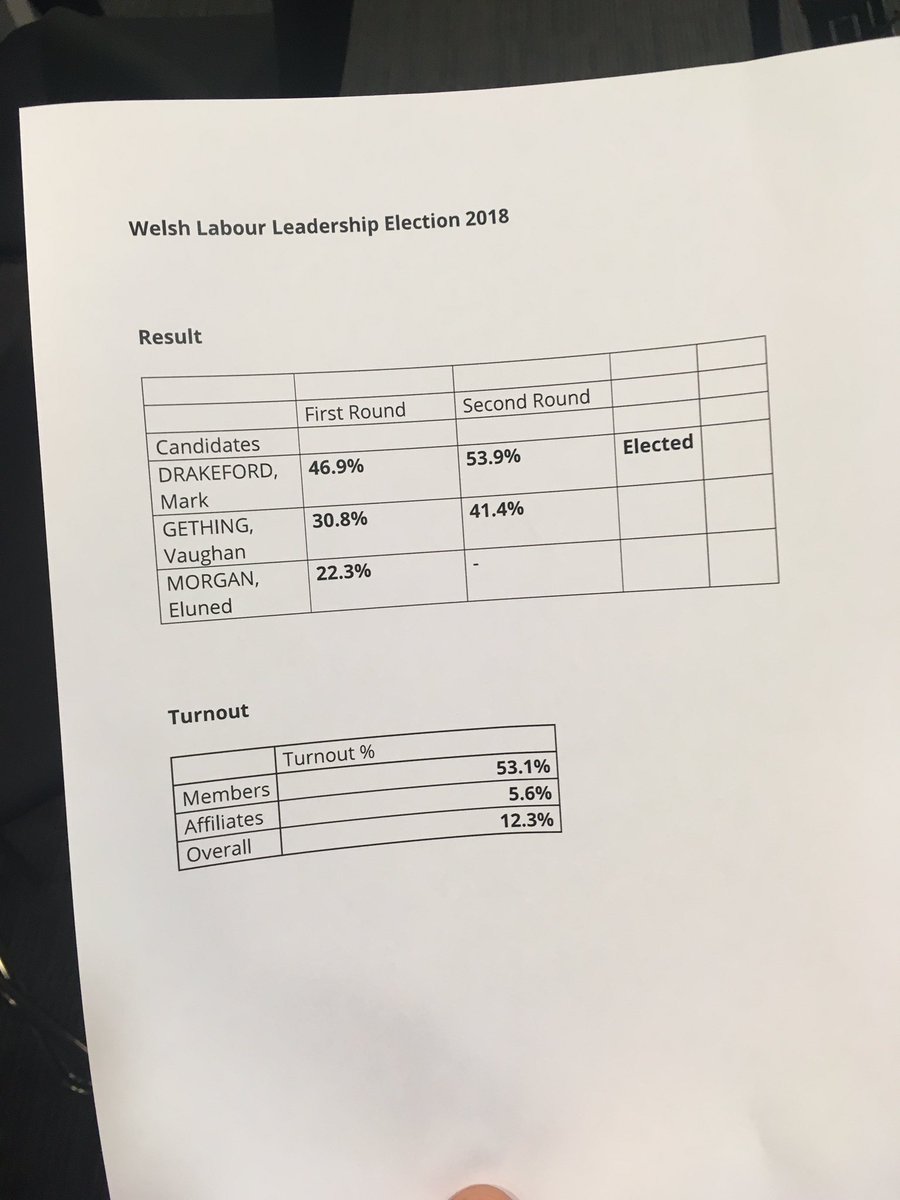 In the first round of voting, Mr Drakeford won 46.9% of the vote with Cardiff South and Penarth AM Vaughan Gething second on 30.8% and Mid and West Wales AM Eluned Morgan third on 22.3%.
After Eluned Morgan's votes were redistributed on the basis of the voters' second preferences, Mark Drakeford had 53.9% and Vaughan Gething 41.4%. Not everyone will have included a second preference.
Mr Drakeford will formally be confirmed as the First Minister of Wales after a vote by AMs in the National Assembly next week.

Other parties can challenge him but with 29 Labour AMs and Independent AM Dafydd Elis-Thomas AM expected to stay in the Welsh Gove
As Ifan Morgan Jones immediately pointed out
"After a gruelling seven-month-long Welsh Labour leadership contest, Mark Drakeford was today announced as the winner, and soon to be new First Minister, with 53.9% of the vote.
The early favourite was probably the best of the three candidates, none of whom exactly set Welsh politics on fire with bold new ideas.
Despite holding views on a second Brexit vote that were at odds with much of the party, and reports of some bad-tempered comments at the hustings, his opponents largely failed to land a blow him.
However, it's unlikely that Drakeford's merits as a potential First Minister played much of a part. This Labour leadership contest was indicative of many of the problems with Welsh politics as a whole, which is that the success or failure of parties and candidates is largely governed by Westminster issues beyond their control.
I follow numerous Welsh Labour Facebook groups and the leadership contest was hardly mentioned. It was the Corbyn v May battles at Westminster that dominated.
Beyond set-piece hustings and TV debates, I saw hardly any discussion amongst members of the important issues regarding powers that the new First Minister will wield in areas such as health, education and tax.
The contrast with Plaid Cymru's almost too combative and passionate (perhaps bad-tempered) leadership race over the summer, where ideological differences were treated like fissures, has been stark.
In fact, at times Plaid Cymru members seemed to have more interest in the ins-and-outs of Labour's leadership contest than Labour member".
At the moment (6:13am 07/12/18) the "Welsh" Labour website doesnt seem to have caught up with the result
The winner was declared on 28 September.[9]
Plaid at least provided us with the actual voting number s rather than just the percentages.
Ukip actually admitted that Gareth Bennett won his contest this year with

514 of the party's 876 members voted with

Caroline Jones was eliminated in the first round with 130 votes. Gareth Bennett went on to win the second round, with 269 votes to Neil Hamilton's 193.
Why haven't the Welsh Media (such as it is) called for the actual voting numbers from "Welsh" Labour?
One wonder how many Labour "Members" are actual activists as opposed to those who joined simply to vote for Jeremy Corbyn.
Certainly in parts of Wales their election votes does not seem to reflect the number of actual campaigners on the street, relying on the UK media to see that people vote on a UK level rather than Welsh or local issues.