As we see the continuing sight of US "Militias" demonstrating in the US there must be surley concern that it a seious threat to democracy.
"The Governor of Michigan should give a little, and put out the fire," Trump said in a reference to Gov. Gretchen Whitmer. "These are very good people, but they are angry."
"Good people" I imagine the NAZI's saw the SA as good people.
He added: "They want their lives back again, safely! See them, talk to them."
Critics, some tweeting pictures of men with rifles posted near the door of the Michigan governor's office, said it may be difficult to compromise with people carrying weapons.
"At the point of a gun? Hell no," tweeted Democratic strategist Jim
Manley.
Trump, who has attacked Whitmer previously, has been encouraging protesters in Michigan and elsewhere for weeks, at one point urging them to "liberate" their states. His list of states to be liberated included Michigan.
After the liberate tweets, ashington Gov. Jay Inslee told ABC News that it was dangerous to "have a president of the United States basically encourage insubordination, to encourage illegal activity."
Historian Joshua Zeitz, noting he once worked in a governor's office in New Jersey, said protesters with guns should not be accorded the kind of respect advocated by Trump.
"You make an appointment to see the governor or staff," Zeitz tweeted. "You don't storm the State House with assault rifles and barricade the door to the Gov's office. Doing so makes you a thug and a terrorist, not a 'good person.'"



Hundreds of protesters, some armed, gathered inside Michigan's state capitol on Thursday as state lawmakers debated the Democratic governor's request to extend her emergency powers to combat coronavirus.


A tightly packed crowd of protesters, some carrying rifles, attempted to enter the floor of the legislative chamber, and were held back by a line of state police and capitol staff, according to video footage posted by local journalists.



"Let us in! Let us in!" the protesters chanted, as they stood shoulder-to-shoulder inside the statehouse. Few of them were wearing face masks.

Some of the protesters shouted anti-government slogans, including comparing the state's Democratic governor, Gretchen Whitmer, to Hitler.

One Democratic state lawmaker posted a photograph of men with rifles standing in a gallery yelling down at lawmakers below. "Some of my colleagues who own bullet proof vests are wearing them," the state senator Dayna Polehanki wrote on Twitter.




Directly above me, men with rifles yelling at us. Some of my colleagues who own bullet proof vests are wearing them. I have never appreciated our Sergeants-at-Arms more than today. #mileg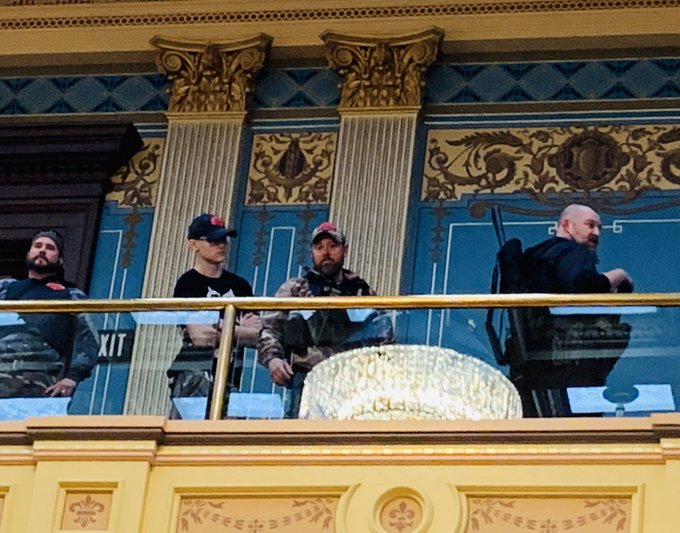 46.9K
5:38 PM - Apr 30, 2020 · Lansing, MI
Twitter Ads info and privacy
27.2K people are talking about this



One protest sign outside the statehouse on Thursday read: "Tyrants get the rope."

Thursday's protest in Lansing, Michigan's capital, was much smaller than the 15 April "Operation Gridlock" protest when supporters of Donald Trump organized thousands of people to publicly demonstrate against what they said was the overreach of Whitmer's strict stay-at-home order.

Many people at Thursday's "American Patriot Rally", including militia group members carrying firearms and people with pro-Trump signs, appeared to be ignoring state social-distancing guidelines.
Ironically some of these Militias are those who exist in believing that they face a coming apocalypse and are stockpiling food and weapons ,who find that after a few weeks of lockdown they can't survive without a haircut or a visit to Mcdonalds.
But of course for those facing these overweight bullies it is not a case of humour and to the rest of the world it looks like a potential attempt at a coup.
So far these thugs have not appeared to have physically harmed any one , but as many have pointed out , such behaviour that is being carried out by White Supremacists would not be tolerated by NaTive Americans or Black Protestors.
In April 2016, youth from Standing Rock and surrounding Native American communities organized as a direct action group and social media campaign to stop the Dakota Pipeline pipeline, calling themselves, "ReZpect Our Water". Inspired by the youth, several adults, including Joye Braun of the Indigenous Environmental Network[ and tribal historian LaDonna Brave Bull Allard established a water protectors' camp as a center for direct action, spiritual resistance to the pipeline, cultural preservation, and defense of Indigenous sovereignty.
On September 3, 2016, during Labor Day weekend, the Dakota Access Pipeline brought in a private security firm when the company used bulldozers to dig up part of the pipeline route that contained possible Native graves and burial artifacts; it was subject to a pending injunction motion. The bulldozers arrived within a day after the tribe filed legal action.[60] Energy Transfer bulldozers cut a two-mile (3200 m) long, 150-foot (45 m) wide path through the contested area.[61][62]
When unarmed protesters crossed the perimeter fence to stop the bulldozers, the guards used pepper spray and guard dogs to attack. At least six protesters were treated for dog bites, and an estimated 30 were pepper-sprayed before the guards and their dogs left the scene in trucks. A woman that had taken part in the incident stated, "The cops watched the whole thing from up on the hills. It felt like they were trying to provoke us into being violent when we're peaceful."The incident was filmed by Amy Goodman and a crew from Democracy Now![Footage shows several people with dog bites and a dog with blood on its muzzle
On August 11–12, 18 people were arrested, including Standing Rock Tribal Chairman David Archambault II who was charged with disorderly conduct. Along with the tribal council, Archambault had sued the Army Corps of Engineers days before his arrest.[68] He was himself sued on August 16 by Dakota Access, LLC, which sought "restraining orders and unspecified monetary damages."[69]
On August 30th, 2 women, Ruby Montoya and Jessica Reznicek were arrested for conspiracy to damage an energy facility, four counts each of malicious use of fire and the use of fire to commit a felony.[70] The two set fire to machinery and tools and then used a torch to pierce the metal piping and valves. The charges they were indicted for carry up to 110 years in prison, one of the largest sentences on environmental activists in the past decade.[On September 7 an arrest warrant was also issued in Morton County for Green Party presidential candidate Jill Stein and her running mate Ajamu Baraka on misdemeanor counts of criminal trespass and criminal mischief. Stein had spray-painted "I approve this message" and Baraka wrote the word "decolonize" on a bulldozer.]
And yet White Separatist Militias are seen as having the constitutional right to bear arms , and seemingly intimidate Legislators going about their business.
One can only wonder if he sees the potential loss of his presidency next november if Trump will not turn to these militias , to intimidate voters in areas vital for his reelction.