The news that French actress Madeleine Lebeau, the last surviving cast member of the classic 1942 film Casablanca, has died has reminded me of one of my favourite film moments,
The visiting Nazi party decides to celebrate at Rick's club, by starting a chorus of
Die Wacht am Rhein
much to the chagrin of everybody around them. Having had enough of it, freedom fighter Victor
Laszlo starts up the band and with Rick's approving nod they begin to play the French national anthem
La Marseillaise
. Soon all of the refugees from the Nazi's war on Europe begin to sing along out the Nazi officers who eventually are forced to give up.
One interesting thing is that the character of Lazio is a Czech resistance fighter and so for him the signing of
La Marseillaise
is an act of defiance for all those who resisting the Nazi's.
But it
Madeleine Lebeau face that sums it all up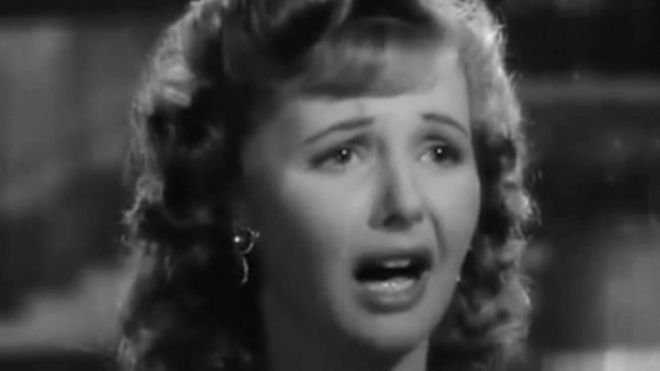 To me she is not acting but as an expression of reality
Lebeau married actor Marcel Dalio in 1939; it was his second marriage. They had met while performing a play together. In 1939 she appeared in her first film, the melodrama Jeunes filles en détresse (Girls in Distress).
In June 1940, Lebeau and her husbandr Dalio (who was Jewish; born Israel Moshe Blauschild) fled Paris ahead of the invading German Army and reached Lisbon. They are presumed to have received transit visas from Aristides de Sousa Mendes, allowing them to enter Spain and journey on to Portugal. It took them two months to obtain visas to Chile.
However, when their ship, the

S.S. Quanza

, stopped in Mexico, they were stranded, along with around 200 other passengers, when the Chilean visas they had purchased turned out

to be forgeries. Eventually, they were able to get temporary Canadian passports and entered the United States.
So she I believe she expressing her own feelings as she
she tearfully shouts "Vive La France",
It could be argued that for those Nations that were the victims of French Colonialism
La Marseillaise
. is hardly an expresion of freedom and I wonder what our Breton friends think of it.
But in 1942 for the French refuges
(and others) from Nazi tyrantny and for one rather beautiful actress it must have provoked huge emotions,