A third block of student flats in Cardiff has applied for a change of use due to the coronavirus though questions should be asked over the types of student accommodation . being built , which benefit from relaxed planning rules , and the actual future plan in generals
The owners of the Eclipse tower, on Newport Road Lane in Adamsdown, want to use up to 235 of their rooms as professional serviced apartments.

The development, with a total of 686 rooms, first opened to students in 2017 after receiving planning permission in 2015.

But now its owners say they are struggling to fill the rooms, given the Covid-19 pandemic putting off students from studying at university.

Guests staying in the professional serviced apartments would benefit from a 24-hour concierge, a gym, laundry room, cycle storage and dining rooms. Rooms would be charged on a weekly rate and maximum stays would be limited to 90 days.

Collegiate, who run the Eclipse, must first receive planning permission for the change of use from Cardiff council.

Two other student accommodation developments in Cardiff have also recently applied for a change of use: the Zenith and the Neighbourhood.

There have been concerns raised that Cardiff is becoming dominated with ugly student blocks that do not meet the more proper standards for light and building standards, and do not provide full community funding, when there is not sufficient demand for student flats. Better quality building projects have been scrapped in favour of cheap student blocks
I always wondered how the now demolished "Block" the Hal of residence at Coleg Harlech was ever allowed to be built in the Snowdonia National Park , given that there are strict rules on householder on the type of roofing they use.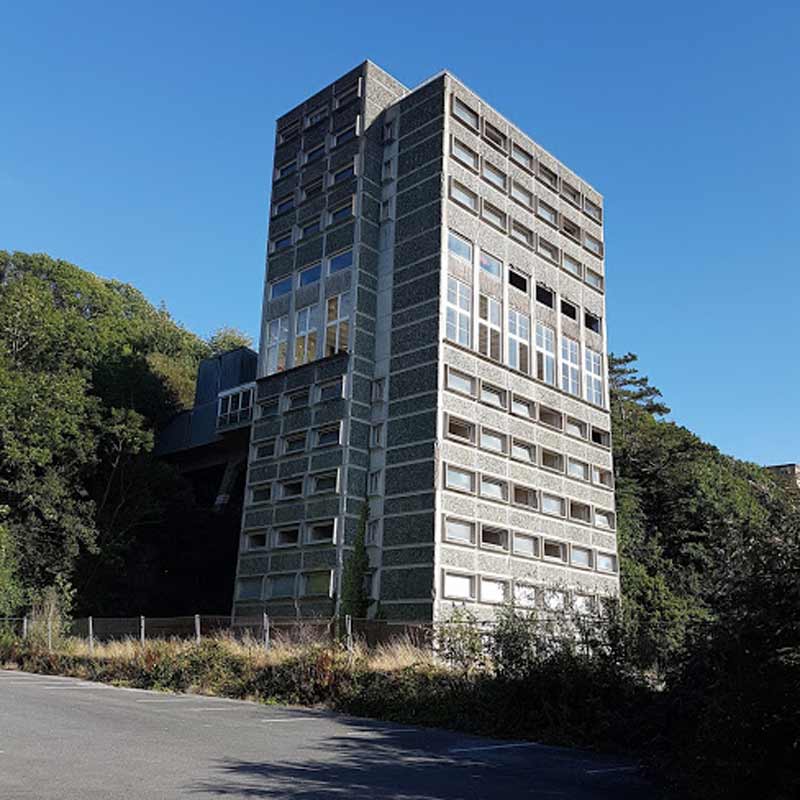 Once again i am loath to quote former"Welsh" Ukip leader now a a member of Abolish the Assmebly Party Gareth Bennett but just as a broken Clock may be right twice a day , a far right populists, should not be ignored for his loathsome views if he or she raise relevant issues ,
This from July 18th 2018
Diolch, Llywydd. There have been a number of successful planning applications recently for student accommodation in Cardiff. Some people have observed that virtually every major housing block granted planning permission for central Cardiff in the past 18 months has been for student accommodation. At the same time, we have a second so-called student block considering applying for change of use so that it can let its rooms to non-students, due to lack of demand from the student population. We also have a large block in Newport that is no longer being used exclusively for students. If there is a lack of demand for the blocks that have already been built, why are more student blocks being built, I wonder. Is the Welsh Government aware of this issue, and what are you doing to regulate this area?

Minister Rebecca Evans replied


Thank you for the question. I'm certainly aware of the issue, in terms of there being a large number of student accommodations within Cardiff that aren't being occupied by students. There's a particular difficulty in terms of changing those accommodations into non-student accommodations, of course, because my understanding is that the regulations surrounding the different types of accommodation are different, so there is an issue there in terms of space, and so on. I know this is an issue that the Minister with responsibility for planning is also very much alive to. But my advice to local authorities, certainly, would be to look very closely at their local housing needs analysis, and to be organising their planning and decision making around planning in accordance with those local housing needs.

Bennett carried on after the Ministers reply..
...Thanks for that response. I'm glad you are aware of the issue. I think there may be a need for perhaps closer involvement at Welsh Government level in this area, because the local authorities—certainly in Cardiff and Newport—may not be doing enough about it. I think that we may be heading for over-supply of student accommodation. Certainly we know that the expansion of higher education cannot go on forever; there will not be an endless supply of more student members in Cardiff, Newport, or probably anywhere else in Wales. I think what we may have here is something of a scam. It may be that the universities are deliberately creating an over-supply of flats for the student market, so that they can change their use by the back door, and use them subsequently to let out commercially. We know that there are less stringent rules applied to student flats than to commercial developments, for instance, which you alluded to in your answer. Are you aware that the universities could be duping the local councils into allowing these developments of student blocks, which the university chiefs know full well may be used subsequently for commercial letting?
Benett does not seem to have perused the issue and it sems very few Cardiff Politicians have raised the issue .
Whilst it could be seen as a means of aiding the housing crisis in Cardiff , we need an investigation into , whether there is too much Student Accommodation in Cardiff and whether it is used to get around strict planning rules.