If you turn to the BBC Wales website you will a story that the Welsh Labour Government will peg

Welsh university tuition fees will be pegged at £9,000

which either shows the ruling Assembly in a Good or Bad light. depending on your point of view.
You will also see what is obviously largely based on a Labour Press release Welsh first Minister claiming that "
Labour can win elections with clear messages, strong leadership, and by listening to the "hard things" voters say"
As it an eve of conference report it is newsworthy as is the first report.
However in the wake of another story it might have been a bit of a coup to ask the first minister whether he thought that "listening to the "hard things" voters say" explained why the Welsh Labour party has now decided to vote with Ukip in supporting a "Hard Brexit" and opposing the free movement of people.
I think that it is inexpiable that the BBC as a whole let alone their Welsh Branch Office did choose not to cover t

that the Welsh Labour Government and its tame Lib Dem

joined with the Conservatives and UKIp in rejecting a Plaid Cymru motion in favour of Single Market membership, and supported an alternative Tory amendment which advocated only access instead.
This was the first case of a UK legislature backing a "Hard Brexit" so we must surely be newsworthy.
Even the Wasting Mule thought it important enough to put iton its front page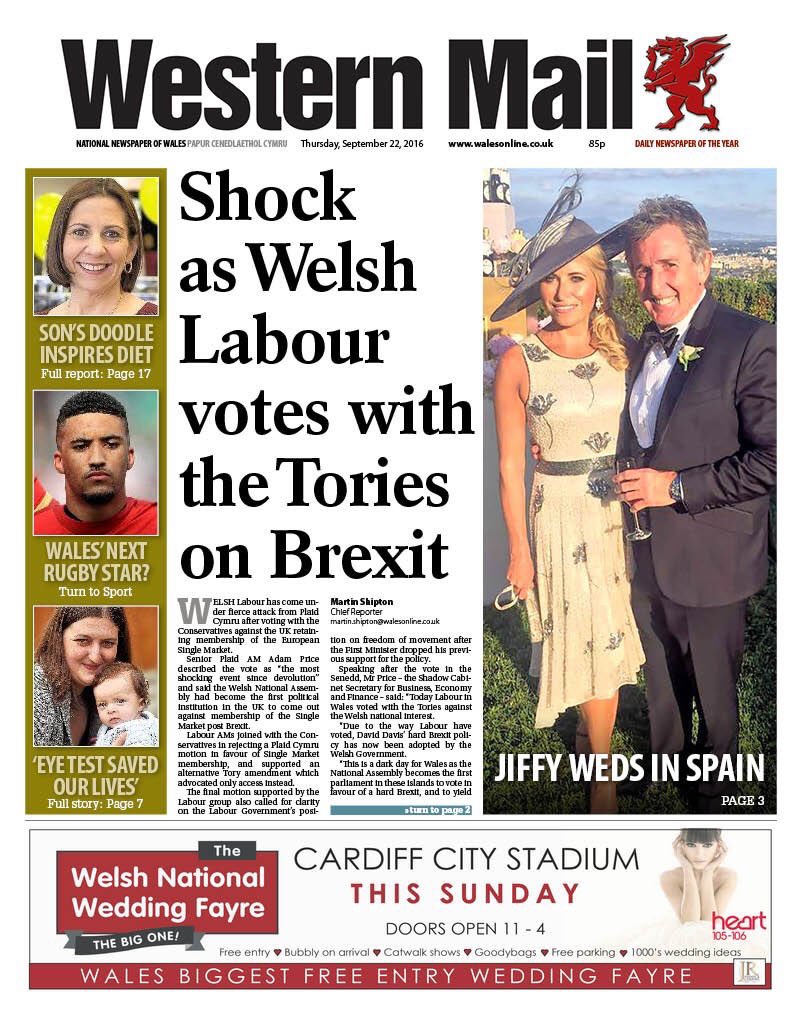 It is also very strange that Editorial staff at the BBC did not ask the Labour Party what it actual standpoint was with the first Minister giving constant contradictory opinions on the single market and whether he would try to veto the UK government if they failed to secure a single market.
This has led Welsh ministers admitting a press release saying they backed free movement of people despite the Brexit vote was altered after being sent to journalists.
Is there a limit to stories that BBC Wales editors believe they could run that show the Welsh Labour Government in a bad light among some Labour voters?