Stunt or Smear we can wonder about Traingate with
Jeremy Corbyn coming under fire under fire after CCTV images appeared to show seats were available on a train after he claimed he was forced to sit on the floor.

A video shows the Labour leader sitting on the floor of the Virgin service from London King's Cross to Newcastle on August 11.

He used the clip as an opportunity to call for public ownership of the railways.

But Virgin released CCTV today denying his claims.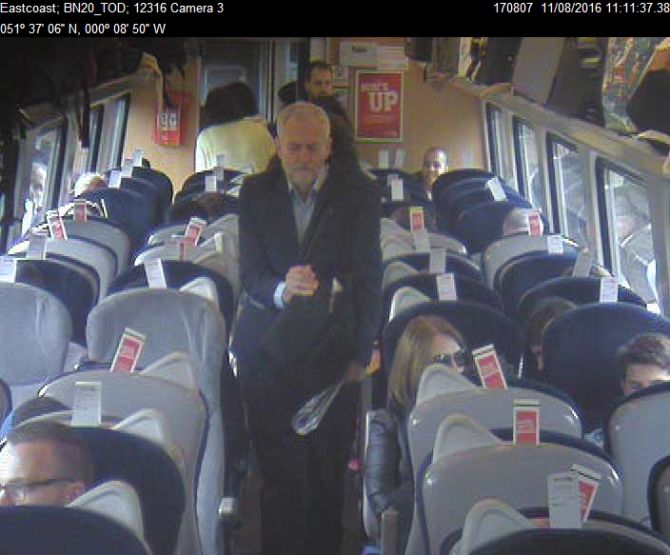 "CCTV footage taken from the train on August 11 shows Mr Corbyn and his team walked past empty, unreserved seats in coach H before walking through the rest of the train to the far end, where his team sat on the floor and started filming.
"The same footage then shows Mr Corbyn returning to coach H and taking a seat there, with the help of the onboard crew, around 45 minutes into the journey and over two hours before the train reached Newcastle. Mr Corbyn's team carried out their filming around 30 minutes into the journey.
"There were also additional empty seats on the train (the 11am departure from King's Cross) which appear from CCTV to have been reserved but not taken, so they were also available for other passengers to sit on."


As a result a lot of people started laying into Corbyn but others have now come to his defence.

Keren Harrison was on the train with the Labour leader and tweeted a picture of the two of them sat on the floor.

'Me & @jeremycorbyn! Fact: he got seat about 45 mins in when staff started shuffling ppl around!,' she wrote.




She confirmed the train was packed despite the footage seemingly showing there were seats available.




Harrison added Corbyn and his party had been seated together, which could explain why he had decided to wait for more spaces to become available.it is
Everybody know that our Trains are overcrowded and that and that people may reserve seats which may not be taken up for a fer stops .
But lets face it ii would be pretty embarrassing to use yhje seat and then have to give it up after a few stops to the person who booked it and then have to sit inn the aisles.
Asked if it was true that the train wasn't full, a spokesperson for Corbyn's campaign told BuzzFeed News:
"That's a lie. It was full and he gave his seat up so a woman could sit down. Others were sat in the aisles too!"
A Corbyn campaign spokesman later added: "When Jeremy boarded the train he was unable to find unreserved seats, so he sat with other passengers in the corridor who were also unable to find a seat.
"Later in the journey, seats became available after a family were upgraded to first

class.
"And Jeremy and the team he was travelling with were offered the seats by a very helpful member of staff."
It may be somewhat ironic that there wil be passengers being forced to sit in the isles (many of them Tory voters) as they commute to work to bereadin FRONT Page headlines like this,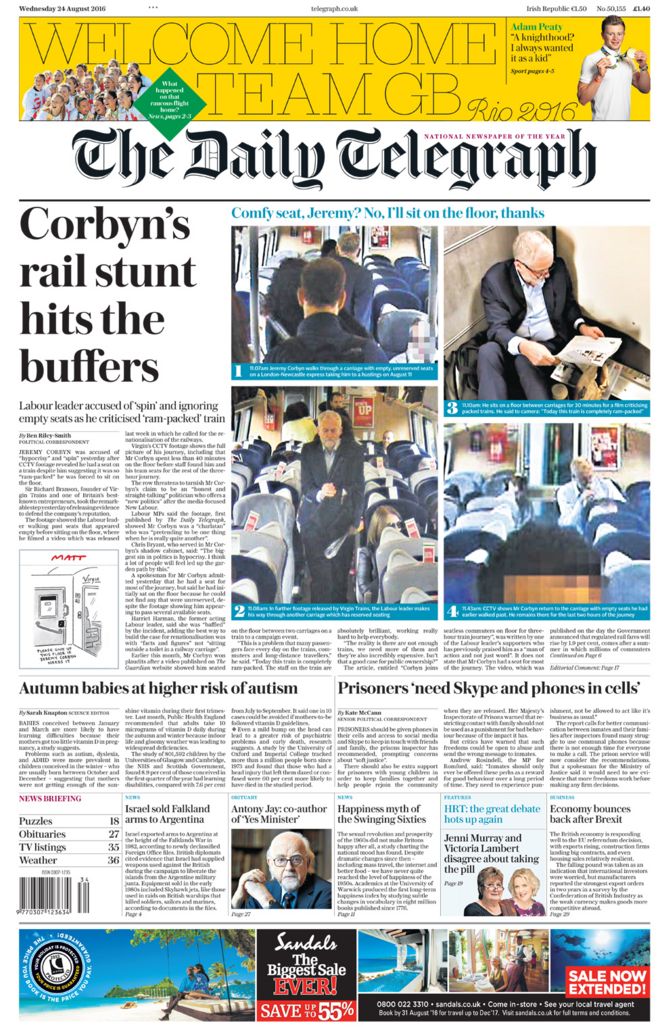 Of the Pictures of Corbyn sitting in the Aisles was a stunt , but was it dishonest .
From what I can see it was not . It looks like that if he had taken one of the reserved seats may well have had to vacate it sooner rather that later.
He could have of course used his position to upgrade to first class but then he would have had to abandon his staff.
Over at political betting there appears to be a claim that it was Corbyn's PR staff that let him down
I don't want to go into the rights and wrongs here because I just don't know. As a very regular traveller on that line I have a lot of sympathy for the Labour leader. Services can get packed and finding seats can be difficult which is why it is always wise, and much better value, to book ahead of time. That way you get a reserved seat.

The problem was he'd used his experience on the trip to make a political point on the ownership of the railways. When you do that your PR team has to take into account the possibility that the claims you make might be unpicked.

Team JC make a big point of saying that there is a media bias against them. Maybe. But Corbyn has to ensure that he gets the best possible PR advice and support in what is a critical part of his job – how things he does and say are portrayed. I don't believe that under Seamus Milne he is being well enough served. Milne had never had a PR role before taking on the Corbyn job and it shows.
One can only wonder what even the best PR team in the world can do in the wake of a right wing media that is hostile to your man or woman.
OH i know do what Blair did become indistinguishable from the Tories with regards policy and rely on portraying the image of a Fresh Faced alternative to a tired regime.
Clearly this was a stunt but whether it was misleading is another matter . It seems to me that Corbyn's account of the journey was basically true and represented what many face every day .