The EU counter-fraud body Olaf is investigating a series of specific allegations made by former employees of the Ukip Wales leader, who this week resigned from the Ukip group at the National Assembly, where he represents North Wales.
"Having spoken to the police, I am in no doubt whatsoever that these claims – which are entirely bogus - have been made against me as part of an ongoing strategy to harry me out of my position and to damage my reputation at a time when a membership ballot is due to take place.
"One of the allegations being made, appallingly using a stolen personal bank statement, relates to a simple and honest, lawful transaction using my own money to replace my car.
"Another sign of the entirely fictitious nature of these claims is an assertion that one of my employees is my brother-in-law: this is demonstrably untrue and will come as a very considerable surprise to him, his wife and family.
"I trust that those wilfully attempting to harm me will face appropriate charges.
"I find it utterly incredible that this ongoing, baseless and vicious campaign against me is being pursued as a priority by some within Ukip whose morals are deeply questionable.
"A completely new politics has come into Ukip Wales in the past year and I have suffered ongoing abuse and public slander as a result."
Ukip's Welsh Assembly leader Neil Hamilton has hardly been supportive
challenged Mr Gill to publish his expenses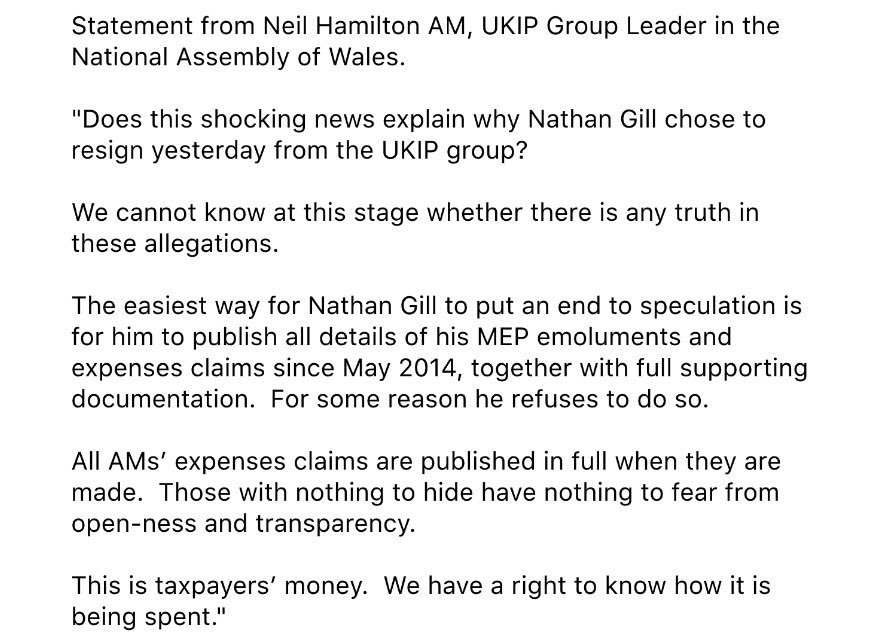 Whether Mr Gill is guilty of any of the charges laid against him is for the investigators to decide.
But it does seem that Mr Gill was "shopped" by his own party . We can only wonder if this was on the spirit of " openness and transparency " referred to by Mr Hamilton who as we no has always done so. (Yeah). I leave readers to decide for themselves.
Ukip support in the UK as collapsed to 6% one wonders if the Welsh public who have elected the first
Ukip
members to one of the four
legislature in the Uk and NI have remained loyal. If so we then the other parties really have a problem and need to ask why?