The Rio Olympics has seen a rash of different approaches of how the medal tables would look
We Have the official Table
One based on the European Union
Which Brought out he response from Tory MP Heather Wheeler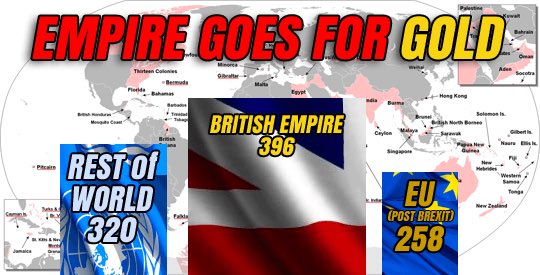 We have our own version sorry its not up to date
Or one based population
What it does prove is that the Olympics have become a potent political weapon . The BBC coverage of team GB has resembled a Soviet style broadcast where could have more chance of knowing the name "British" Athlete who just lost out on a Bronze than who won the Gold.
It has become a shameless promotion pf the Union where we are expected to get behind Team GB a. With

Welsh Conservative leader Andrew RT Davies even ordering a party press release attacking the Football Association of Wales and its counterparts in Scotland and Northern Ireland for "petty nationalism" in opposing the Team GB women's football side.

Davies claimed the three had "blocked" a Team GB entry in the women's football competition, "in a huge blow to the development of the game".
But has been pointed out



But Davies, the BBC announcer and an increasing number of ill-informed commentators seem to have overlooked the fact Great Britain hadn't even taken part in the Olympic qualifying process.

England would have qualified for the Olympics if it had a National Olympic Committee, but like Wales, Scotland and Northern Ireland it doesn't and probably isn't eligible for International Olympic Committee recognition. But it seems the third place finish the England Women's team achieved at last year's World Cup is what has reignited Davies' passion for a Great Britain.




..... How would the other teams at the Olympics react to find rather than playing the qualifiers, England in 2016 – perhaps Wales in 2020 -, they must instead compete against Great Britain? A team drawn from a squad good enough to qualify as of right and improved by the best players from neighbouring countries.




Even if the 'home nations' could reach agreement they are just four of 211 member nations in FIFA, world football's governing body. While Davies and the English FA can't persuade three associations to support a Team GB – the danger is a majority of the other 207 associations may well back a Great Britain football team but not the continuation of England, Scotland, Wales and Northern Ireland – who all basically compete internationally under grandfather rights – as independent football nations.
It is a prime example of Unionist who see

"petty nationalism" in those like myself who would have liked to see Wales and Scotland represented as individual nations in the Olympics and who think participating is the point of being a Nation not how many medals you win.
I did not get behind Team GB but I celebrated Individual achievements from many of the athletes from these Islands but then I always wanted Usain Bolt to win as well.
Are we really going to get the Olympics used as a means of pr emoting the Union every four years rather than a simple pride in the achievements of our athletes who did their best winners and losers.