The problem many I suspect will have with the EU referendum i that when picking a side we are faced with allying our selves with people we don't trust or at least views we don't share.
On the Remain side we have just witnessed
Prime Minister David Cameron joined by ex-Lib Dem leader Paddy Ashdown and Labour's Neil Kinnock for the telephone campaigning session.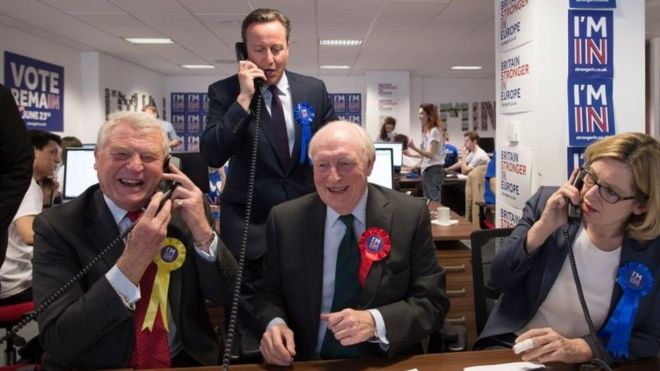 The Three Stooges.
And then you see this
The Blond Buffoon.
And with Iain Duncun Smith and Michael Gove on the leave side the yuck response is doubled
There's not much for the Left and Progressives to encourage them to support both sides.
But I find myself in agreement with Jeremy Corbyn
Who warned there could be a "bonfire" of workers' rights if the UK votes to leave the EU in June.
The Labour leader claimed the Conservatives would "dump" equal pay, annual leave and maternity pay rights.
"Just imagine what the Tories would do to workers' rights here in Britain if we voted to leave the EU in June.




"They'd dump rights on equal pay, working time, annual leave, for agency workers, and on maternity pay as fast as they could get away with it. It would be a bonfire of rights that Labour governments secured within the EU.




"Not only that, it wouldn't be a Labour government negotiating a better settlement for working people with the EU. It would be a Tory government, quite possibly led by Boris Johnson and backed by Nigel Farage, that would negotiate the worst of all worlds: a free market free-for-all shorn of rights and


protections."
Its a pity we weren't allowed a third alternative, which read spmething like.
We wish to remain n the EU but would like to see huge reforms and give notice that if this is nor visible we will within 5-10 years we have no alternative but to leave.


I know this is wishy washy but maybe its something those of us who consider ourselves on the Progressive Left could unite and campaign under.


At least we would be ,on the same side as the Three Stooges or the Blond Buffoon,