Yesterdays media went in a frenzy reporting that an old lady had broken her silence over the Scottish independence vote, saying she hopes Scots will "think very carefully" about the future when voting in a referendum that could break up the United Kingdom.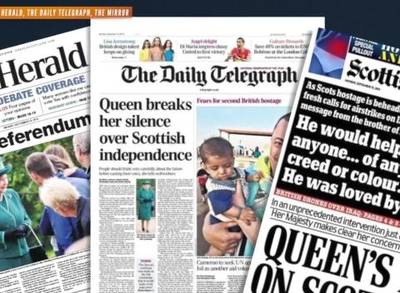 Coming out of a morning service at a church in Crathie near her Balmoral estate in Scotland on Sunday, responded to a remark from a well-wisher that they would not mention the referendum.

"I hope people will think very carefully about the future," The Times newspaper reported Elizabeth as saying.

But of course the media couldn't resist suggesting that Mrs Windsor was suggesting that people "think very carefully" and vote NO.

I think everyone would agree that all voting on Thursday should think carefully but if they need to take the advice of Queens maybe should consider. Elizabeth 1st (Who was not Queen if Scotland) reply to Walter Raleigh on a window-pane,

Raleigh wrote

"Fain would I climb, yet fear I to fall".
,prompting Elizabeth I to add
"If thy heart fails thee, climb not at all

".
Now is not the time of Faint hearts but Brave hearts