The Conservative party during the 2015 General Election released a campaign poster that depicted Ed Miliband in the pocket of the former Scottish National party leader Alex Salmond,
The Tory poster, designed by the advertising agency M&C Saatchi, was one of a number of campaign posters that try to scare voters about parties that might form an alliance with Labour in the event of a hung parliament.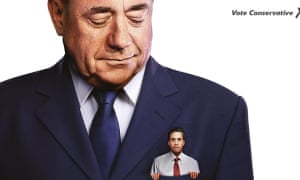 The Tory advert was released after the Then Prime Minister Cameron called on Miliband to explicitly rule out any deal with the SNP "if he cares about this country". The Scottish nationalists are likely to take many of Labour's 41 seats in Scotland in May.
"If you thought the worst outcome in this election is a Labour government led by Ed Miliband, think again," Cameron said. "You could end up with a Labour government led by Ed Miliband, propped up by Alex Salmond and the Scottish National party. You could end up with an alliance between the people who want to bankrupt Britain and the people who want to break up Britain."
And it worked English and indeed some Welsh voters turned against Labour and voted for the Tories. and they won with a small but working majority.
The Conservative leader Theressa May just two years later has now lost her parliamentary majority when the nation went to the polls – but she then told the country she would seek to form a minority government with a "confidence and supply" agreement with the Northern Ireland's Democratic Unionist Party (DUP).
This would mean the party would vote with the government on a case-by-case basis rather than a more formal coalition arrangement.
I imagine for the majority of people the spectre of the DUP having a role in the UK , with its sectarianism and medeival views on Gay and Women's rights.
The DUP won 10 seats in Northern Ireland, meaning if the two parties secure a formal deal and both whips agree to get all MPs to vote their way, they'll have a majority of two.

The DUP have some very controversial views. Including not believing in climate change and some archaic thinking surrounding abortion, same-sex marriage, and same-sex parenting.
Before the
2005 general election
,the Openly Gay Tory MP Alan Duncan was rumoured to be planning a leadership campaign in the event that then-leader Michael Howard stepped down after a (then-likely and later actual) election defeat.
[17]
On 10 June 2005, Duncan publicly declared his intention of standing in the
2005 leadership election
.
[18]
However, on 18 July 2005, he withdrew from the race, admitting in
The Guardian
that his withdrawal was due to a lack of 'active lieutenants', and urged the party to abandon those that he dubbed the 'Tory
Taliban
':
I wonder how many of the Taliban Tendency agree with the DUP?
Here are some quotes that their politicians have actually said in recent years (seriously).
On creationism
My view on the earth is that it's a young earth. My view is [it was created in] 4000 BC.


Edwin Poots, MLA for Lagan Valley, told Times columnist Mattew Parris in 2007.


He also told the Radio Times:



You're telling me that cosmic balls of dust gathered and there was an explosion.



We've had lots of explosions in Northern Ireland and I've never seen anything come out of that that was good





Certainly not, and there are plenty of other people in this society who don't believe it either.
On blood donations
I think that people who engage in high-risk sexual behaviour in general should be excluded from giving blood.

And so someone who has sex with somebody in Africa or sex with prostitutes, I am very reluctant about those people being able to give blood
Her most important job is wife, mother and daughter.
Edwin Poots, MLA for Lagan Valley, BBC Radio Ulster, 12 January 2016
On same-sex marriage
It is really astounding that David Trimble should have had a man such as this giving him advice – and must surely cast grave doubts on his own political judgement.

I think these sorts of relationships are immoral, offensive and obnoxious.
Ian Paisley Jr, who won the seat of North Antrim and son of the party's founder, on learning that David Trimble, the former First Minister for Ireland, had a gay aide who just married his partner in Canada, in 2005.
I could not care less what people get up to in terms of their sexuality, that's not a matter for me – when it becomes a matter for me is when people try to redefine marriage
The group's leader and a First Minister of Northern Ireland Arlene Foster, speaking in 2016.
On LGBT people
I am pretty repulsed by gay and lesbianism. I think it is wrong. I think that those people harm themselves and – without caring about it – harm society. That doesn't mean to say that I hate them – I mean, I hate what they do.
It wasn't Iris Robinson [his wife] who determined that homosexuality was an abomination, it was the Almighty.
I have a very lovely psychiatrist who works with me in my offices and his Christian background is that he tries to help homosexuals trying to turn away from what they are engaged in.

And I have met people who have turned around to become heterosexual.
Iris Robinson, former MP for Strangford, and wife of former First Minister for Northern Ireland, Peter Robinson, reacting to the news that a man had been assaulted because he was gay, in 2008.
There can be no viler act, apart from homosexuality and sodomy, than sexually abusing innocent children.

I cannot think of anything more sickening than a child being abused. It is comparable to the act of homosexuality. I think they are all comparable. I feel totally repulsed by both.
Iris Robinson, former MP for Strangford, and wife of former First Minister for Northern Ireland, Peter Robinson speaking in the House of Commons in 2008.
On Muslims
I'll be quite honest, I wouldn't trust them in terms of those who have been involved in terrorist activities. I wouldn't trust them if they are devoted to Sharia Law. I wouldn't trust them for spiritual guidance. Would I trust them to go down to the shops for me, yes I would, would I trust them to do day-to-day activities... there is no reason why you wouldn't....Why are you so concerned about Muslims and not poor people like me?
Peter Robinson, former First Minister for Northern Irealand speaking to the Irish News in 2014, where he supported a pastor who said in a sermon "Islam is heathen, Islam is satanic, Islam is a doctrine spawned in hell."
On same-sex parenting
Envisage, down the road, a child going to primary school and being collected by two females or two males, and the bullying and abuse to which those children will be exposed; or going into their parents' bedroom, as is natural for a child to do, and finding two women or two men making love?

I stand by my faith and the word of God that man was created in the image of God and that woman was created from the rib of Adam to be his helpmeet and companion. That is the natural progression of procreation.

The word of God says that procreation is through a man and a woman.

We are moving mountains to facilitate immorality and to bring the rights of lesbians above all others in this country.

It is a shame, and honourable Members ought to hang their heads in shame.

Iris Robinson,former MP for Strangford, speaking in the House of Commons in 2008.

The facts show that certainly you don't bring a child up in a homosexual relationship ... that a child is far more likely to be abused or neglected ... in a non-stable marriage.

Jim Wells, Deputy Speaker of the Northern Irish Assembly, speaking at a

hustings in 2015.]
On Abortion.
I would not want abortion to be as freely available here [Northern Ireland] as it is in England and don't support the extension of the 1967 act
The group's leader and a First Minister of Northern Ireland Arlene Foster, speaking to the Guardian in 2016.
On Climate Change
I don't care about Co2 emissions to be quite truthful...I still think climate change is a manmade con.
On Rihanna
[She was in an] inappropriate state of undress....

..If someone wants to borrow my field and things become inappropriate, then I say, 'Enough is enough'...

I felt Rihanna was in more of a state of undress than a bikini top...Everybody needs to be acquainted with God and to consider his son, the Lord Jesus Christ, and his death and Resurrection
There are some ib the Tories Party who will agree with all the of the above quotes But what of the more moderate Tories will they really be comfortable having , what is the most Bigoted Party in the commons pulling the strings.
Before the election there was speculation of a number of Labour MPs doing a SDP like split and abandon Corbyn. Who would have thought that we would now be wondering if it would happen in the Tories.?