Harold Wilson Maxim
"A week is a long time in politics"
Well a month a least . When Theresa May called a General Election few would have predicted the outcome of a hung Parliament and a Prime Minister in deep trouble.
All the speculation was that it would be Jeremy Corbyn who would be faced with a leadership challenge as his party as decimated in the polls.
Indeed he had spent his time since his election fending off challenges and rebellion from the Parliamentary Labour Part.
Now he looks secure and where as Prime Minster May faces the rats leaving the sinking ship, as her aloes desert her . Jeremy Corbyn faces the prospect of his rats queening up to get back on board.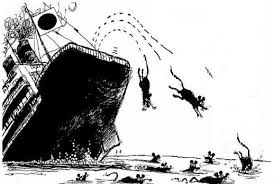 So it HMS May the rats desert , Whilst some rats swim back to HMS Corbyn


Two high-profile Welsh Labour MPs who quit their posts in protest at Jeremy Corbyn's performance during last year's referendum campaign have urged the party to unite behind the leader in the wake of last week's stronger than expected election result.
Aberavon MP Stephen Kinnock and Caerphilly MP Wayne David did not hide their disappointment with Mr Corbyn's leadership in the aftermath of the Brexit referendum.
In June last year Mr Kinnock criticised Mr Corbyn for playing a "half-hearted and lacklustre" leadership role, stating he had "come to the conclusion that you are no longer able to lead our party".
Mr David also delivered strong criticism in the wake of the Brexit result, saying Mr Corbyn had failed to "unite the party around clear and relevant policies and provide strong leadership".
Mr Kinnock quit as an aide to the Shadow Business Secretary and Mr David resigned from a string of frontbench positions, although he later returned as a Shadow Defence Minister.
But the two men have now pressed for party unity after an election result which saw Labour win 28 of Wales' 40 seats, taking three constituencies from the Conservatives.
At one stage Corbyn almost found it impossible to fill places in his Shadow Cabinett as they resigned in droves,
Now he will be getting "Can I have my Job back please" requests from many of those who had claimed that "Corbyn cannot win" ,
None more so than Christina Ress who became
the fifth person to hold the Shadow Welsh Secretary role since the 2015 election, succeeding Jo Stevens (Cardiff Central , Paul Flynn (Newport West), Nia Griffith (Llanelli) and Owen Smith (Pontypridd).
Can Corbyn really replace the fer members of the PLP who have remained loyal to him with probably more able members to the Shadow Cabinet?
Corbyn may be right and he just might bbe Prime Minister in Months but he is still going to have to watch his back from the likes of Kinnock, David and Smith whose new found loyalty is ephemeral and will last just as long as the polls remain favourable.