When the Simpson's
Mr Burns runs for Governor of Springfield's State against Mary Bailey. In the episode Two Cars in Every Garage and Three Eyes on Every Fish.
Team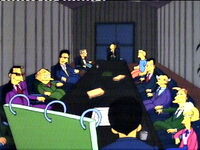 The Leader
The Campaign Team
Speech Writer
Joke Writer
Make up Man
Spin Doctor
Personal Trainer
The Investigators
Muck Raker
Character Assassin
Mud Slinger
Gathologist
It was a comment of Politicians appointing a number of people to make sure their best possible image is put forward.
I was reminded of this when the Wasting Mule reported on
A senior Plaid Cymru source has expressed concern about the party's decision to hire an image consultant after it set up an internet campaign to raise funds for next year's National Assembly election.
The source – who naturally wish to be named – said Plaid had shown a poor sense of priorities in engaging Claire Howell, a "positivity guru" who advised former Scottish First Minister Alex Salmond and other SNP politicians.
Plaid is currently running an appeal for donations on the crowd-funding ite

indiegogo.com

for it to hire organisers for the election.
The Mule goes on to admit that the story is three years old
The advertisement states:
"It's time for a fresh start for Wales. The Labour Welsh Government is holding Wales back and is unable to even achieve its own meagre ambitions – Plaid Cymru has the energy, the vision and the ideas to make Wales work.
"Play your part in moving Wales forward by giving a donation that will enable us to work for you and for Wales after May's election.
"The money raised will be used to fund a number of organisers across the nation, all of whom will play a key part in our success in 2016.
"We've already raised £20,000 towards our 'Organi

sers Fund'. If we can raise

another £10,000 we will be able to make a huge impact – particularly as one generous member has promised to match this with another £10,000. The more we can raise, the more organisers we can fund."
The anonymous senior Plaid Cymru source told us:
"If we hadn't hired Claire Howell at a reputed cost of £60,000, perhaps we wouldn't have to raise funding for organisers by begging on the internet.
"Quite a few people in the party see hiring Claire Howell to rebrand (Plaid leader) Leanne Wood as a vanity project."
The mule goes on to sort of admit that this is an old story
Three years ago we revealed how Plaid had hired Ms Howell, whose Really Effective Development Company (REDco) has described her on its website as an "executive coach to chief executives for personal performance and strategic skills" and says her clients include "high-profile sports people" and "members of the British peerage".
Plaid Cymru chief executive Rhuanedd Richards said:
"I'm not going to reveal how much the party paid Claire Howell, but it was nowhere near the £60,000 figure that has been mentioned.

"Claire worked with us in 2012 on a consultancy basis, but she has not received any payment from us since then or shortly afterwards. She has become a friend of Leanne's and a member of the party, and offers informal advice."
Ms Richards said the crowd-funding exercise was another way of raising money to fight next year's Assembly election:
"Unlike other parties we don't have big corporate or trade union donors. We have to raise funds from the people and communities of Wales."
So it seems that the papers intention is to ruin Plaids appeal for donations.
Personalty
I am suspicious of such image Gurus but most most parties use them and with Leanne showing a great deal of improvement during May's election campaign it might be argued that Ms Howell may be having some affect
One wonders if the anonymous source is the same who leaked that Plaid Cymru leader Leanne Wood has
narrowly won the right to top
her party's regional list for South Wales Central for the 2016 assembly election.
Is there someone in Plaid's ranks seeking to undermine the Party.