You can expect this Photo appearing often in Remain campaign literature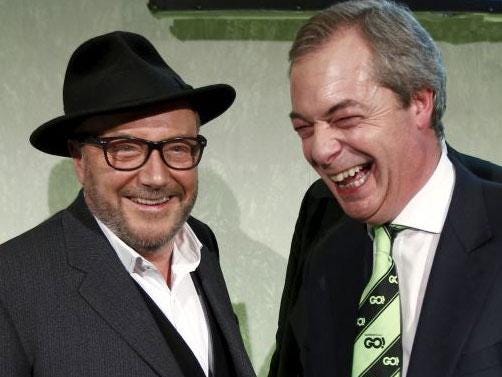 The Independent reports that an anti-EU rally in London which seems to have been held to capatlise on Cameron announcing the Referendum on Uk came to a divisive conclusion after over a hundred people reportedly walked out as George Galloway took to the stage as the event's special guest speaker

The appearance of the Respect Party leader prompted shouted complaints from many people at the QE II Centre in Westminster where supporters of Grassroots Out campaign (GO!), a movement urging Britain's exit from the EU, gathered as the Prime Minister held negotiations to secure an EU reform deal on Friday.

I can imagine there e will be many Brexit supporters who will with be hoping both will be having a low profile in the coming election.

Farage in particular may have bee the face of leave for years and he does attract a fair amount of support, but I suspect twice that number are turned off by him.

As for Galloway even those who supported his attacks on Blair during the Gulf Wars, probably don't wanr to get too close to him.
Th Referendum is tot important is too important to judge on personalities but with Justice Secretary Michael Gove defects to Brexit camp to join Iain Duncan Smith, John Whittingdale, Priti Patel, Chris Grayling and Theresa Villiers sensationally join Leave camp minutes after referendum the referendum date was announced. it could all depend on who you think is most odious and voting the other way.
Those on the left who are tempted to back a Brexit may not like some of the right on the Remain camp , but the presence of Iain Duncan Smith on the other side could be seen as a warning that a leave vote could give him a free hand completely destroy Welfare in the UK free from army protection EU laws gave to the vulnerable in our Society.
The fact that Cameron "successful" negotiations depended on removing welfare payments from EU citizens "working" in the UK is hardly encouraging from him.
But can you imagine, what a Tory government free from EU social policy restrictions and able to win with the support of less than 30% of those who voted will do to the Welfare State in the next Ten years.