In a recent Blog post Pontypridd AM Mick Antoniw reported on joining First First Minister Carwyn Jones on visit the new Edwards Coaches site in Llantrisant, where they were met by owner and MD Mike Edwards.
During the visit Mick Antoniw said,
"Edwards Coaches is a real home-grown success story. With over 500 employees it is one of the biggest employers in Taff Ely. The new Llantrisant site, which I was pleased to help them acquire from the Welsh Government, will allow the company to expand further still. Edwards is a great example of what's happening all across Wales, with the Welsh Government creating the right conditions for talented local people to make a success of their business and generate even more high-quality jobs."
It is interesting to note

t

hat The cost of the Owen Smith campaign bus for his doomed leadership campaign was was £5,851, donated by Edwards Coaches
The Bus came in to some which was mocking on social media for the unfortunate hand positioned near the leadership contender's groin –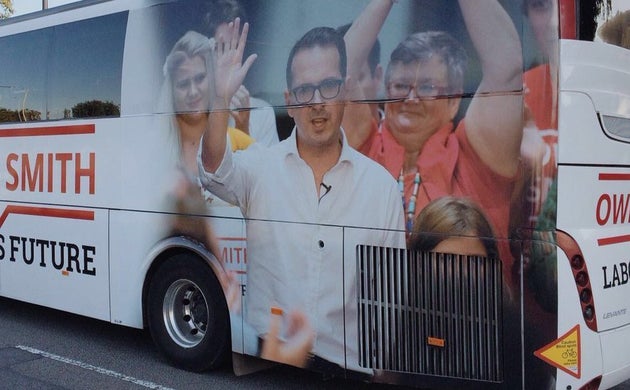 Since Mick Antoniw was one of the few AM or MPs to come out for Corbyn there may not be any connection between the two stories other than the name of the Bus compamy.
The two

AM shares an office with Pontypridd colleague Smith, so there may well have be interesting

debates inside the Market street HQ.
As i said there is no suggestion of anything wrong here and as the Pontypridd MP and AM both Smith and Antoniw should support a local company.
Whether that should be

reciprocal

in the donation of a £5,851 campaign bus seems to me however questionable .