Plaid Cymru have taken their complaint to the Speaker of the House of Commons about Welsh Secretary Alun Cairns' claim there are "nationalist activists that take direct action against people who come in".
During an appearance on BBC Question Time last week, Mr Cairns told Plaid Cymru leader Leanne Wood that "many" of her party's members have "taken direct action in the past" and "broken the law to that effect".
Mr Cairns also remarked that it "wasn't so long ago that some of the cottages were being burned down".
Speaking in the Commons, Arfon MP Hywel Williams said:
"Despite many requests to the Secretary of State, he has failed provide any evidence for this. Neither has he withdrawn his accusations nor apologised.
"People throughout Wales are outraged at these slurs on their communities. But for us today, his accusations relate to Plaid Cymru members.
"I am a Plaid Cymru member. Is he accusing me? Or [Carmarthen East and Dinefwr MP Jonathan Edwards] or [Dwyfor Meirionnydd MP Liz Saville Roberts], English by birth and bought up in Eltham in London?"


Commons Speaker John Bercow said:



"[The] Question Time to which he refers is that on the BBC, not that in the House of Commons. While my responsibility extends to the latter, it does not do so in respect of the former, as I dare say the honourable gentleman knows very well.




"His views, nonetheless, are on the record.




"I do not treat what he has said in any way with levity or disinterest but as a matter of fact it does not fall within the remit of the chair to handle.




"We shall have to leave it there for now."
The hashtag #WeAreWales was started on Twitter after many users took offence to some of the Welsh Secretary's comments n Thursday night's Question Time
ople are very proud to be Welsh
Being Welsh can mean a lot of different things
It doesn't matter if you speak Welsh or not...
There were even contributions from Labour AM and MPs including the First Minister.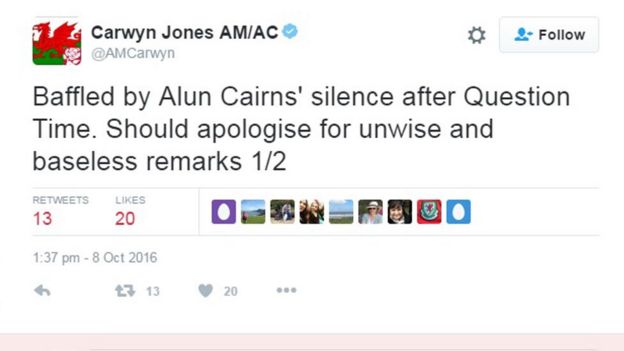 However maybe we need to know what part the BBC played in "setting up" the conditions for Mr Cairns atrocious smear.
The speaker assertions that



"Question Time to which he refers is that on the BBC, not that in the House of Commons".
Has merit so may be we shift this to the BBC and ask them
Did they Trawl the initial question about proposed changes to the Welsh policy of a school in Carmarthen in order to attack Leanne Wood ?
Question Time when it comes to Wales has a record of ignoring Welsh Topics and only seem to allow questions that are of the anti Welsh Nationalist nature.
And Why weas the Chair David Dimbleby reluctant to intervene and "Question" Cairns smears?
What is the BBC policy on inviting guest on Question time ?
Often there is only one or two panellists from Wales as would have happened on Thursday if Neil Hamilton had not replaced someone who puled out.
What is the procedure for choosing the Questions from the Audience.
Are questions about Wales ( where many of the panel are ignorant of the facts) only allowed to trap the Plaid panellist?
Its time the BBC explained its methods and policy on Question Time in a Welsh context indeed its time to question its so called impartiality over the nature of the program.