A Plaid Cymru government would revive the Welsh Development Agency brand to attract more companies to invest in Wales, the party has announced.
Set up in 1976 as a job creation agency, it became part of the Welsh government in 2006 as part of Rhodri Morgan's "bonfire of the quangos".
In 2012, MPs said that decision had "reduced Wales' visibility overseas".
Economy spokesman Rhun ap Iorwerth said Plaid would revive the name for a new public-private partnership.
He said the WDA remained a recognised global brand, and a Plaid-run Welsh government would create a new organisation using the same branding.
But the new body would "not be an exact replica", the Ynys Mon AM added, run at arms-length from government.
Its just as well he said it would not be a replica because even Mr ap Iorwerth found the cartoon on the twitter feed by the Consertavies mildy amusing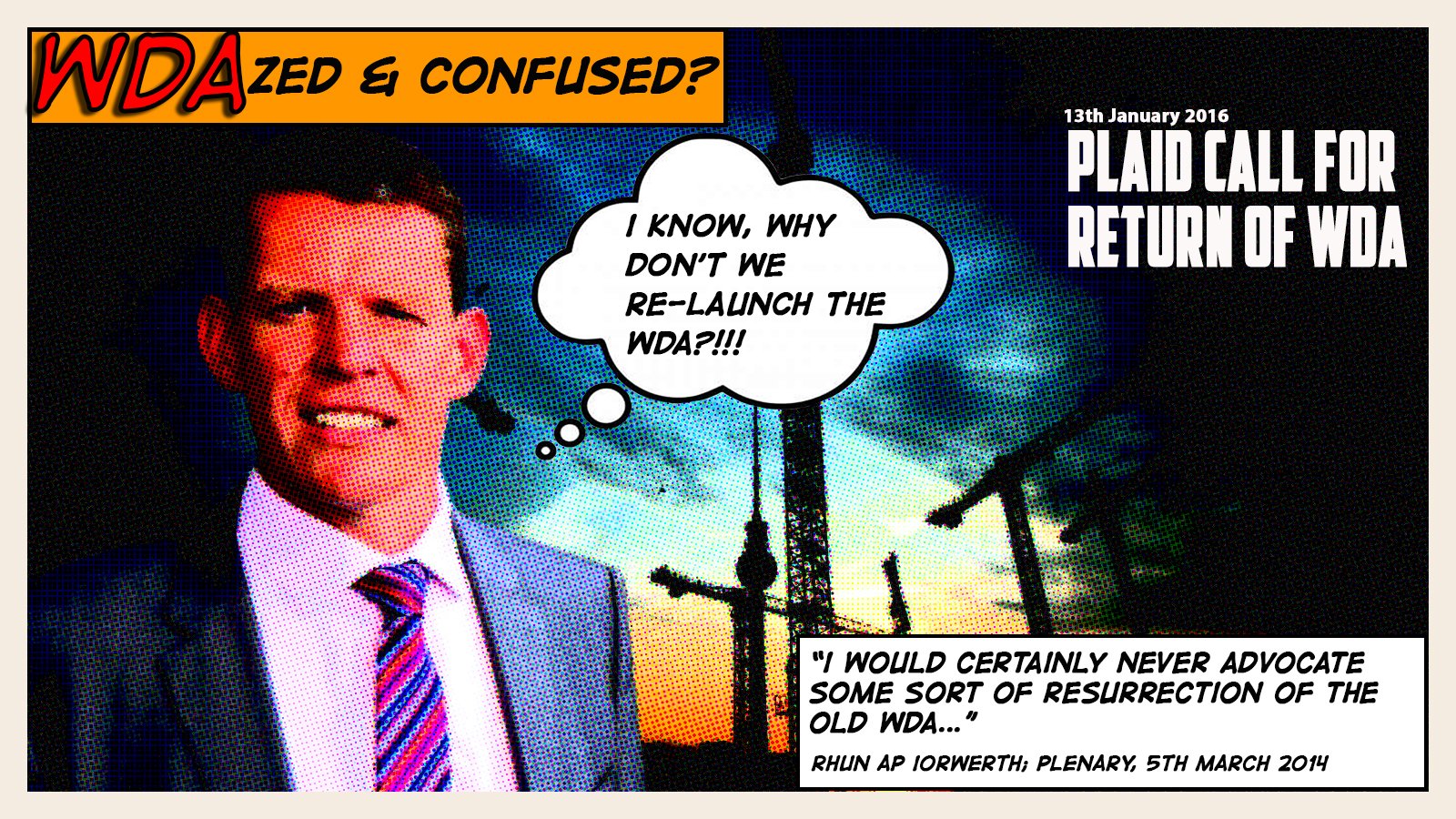 "Wales has been a world-class economic force before but over recent decades our economy has been in decline," Mr ap Iorwerth said.
In his speech Mr ap Iorwerth said:
"I am announcing that a Plaid Cymru government will create a new arms-length trade and investment promotion agency for Wales, a WDA for the 21st century.




"This will be a public-private partnership, with strong representation from business on its board, autonomous from the Civil Service but answerable to government.




"It will use the restored WDA brand – as the Wales Development Agency - to work globally and throughout the UK, to attract new businesses to Wales, to boost Welsh global and intra-UK exports."




"A renewed WDA is not an attempt to turn back the clock, rather to build on previous success and learn from past mistakes.




"It will facilitate the delivery of our economic plan at home and re-establish Wales as a recognisable, desirable centre for investment on the world stage.




"The initiatives I have described to you today I believe reflect the restlessness of Plaid Cymru.




"We are ready and are agitating for the opportunity to steer a new course for our country.




"To take Welsh economic expectations to a higher level.




"To pull all sectors of our country together so we are all aspiring for the same outcome.




"To re-establish Wales as an economic and industrial powerhouse for the benefit of its people and its communities.




"Plaid Cymru will end years of managed decline and our aim will be to make the next decade the decade of prosperity for Wales."
There are huge questions to answer over where the Welsh Assembly Government economic development budget is going, and what exactly stands in the hole where the WDA once was.
The Welsh Conservatives claim they have already called for a privately-run Investment Council to be created in order to attract overseas companies to Wales.
Tory leader Andrew RT Davies dismissed Plaid Cymru's plan, saying Wales needed "more than a retro rebrand".
"We have long championed the need for an arm's length body to lead on inward investment, but it's not as simple as attempting to recreate the halcyon days of the WDA," he said.




"The Welsh government also needs a greater focus on investor aftercare, to ensure that when companies locate in Wales they choose to stay here after the initial agreements have expired."
But Mr Iowerth seems to be talking about just reviving the name and a
"public-private partnership, with strong representation from business on its board, autonomous from the Civil Service but answerable to government".
So what is it the Conservatives objecting to "the name".
Just briging in Branch Offices and Manufacturers is not the answer though
The highest paid work - accountants, company lawyers and, brand developers - are usually outside Wales and it is to the firms' headquarters, not on Welsh soil, that profits flow.
With 5% of the UK population, Wales generates only 3.4% of the economic activity.
With Wales still one of the poorest parts of the UK and with some of the highest unemployment numbers. Somebody has to come up with a plan to reverse it and Plaid at leat have an answer.
It might work or it might become a bloated quango like its predecessor employing over a thousand people . To the extent that one of its biggest job creations was itself.
But I would like to see a new WDA have a section dealing indigenous companies and helping the setting up and running Cooperatives.
OK the previous WDA failed and we

e need to see more flesh on this proposal but in the meantime maybe Mr ap Iowerth 's critics particularly Labour and the Tories also come up with plans to pull out out of the mire that OK the previous WDA failed