The UK Unionist have been giving the impression that the Tories had somehow won the local elections in Scotland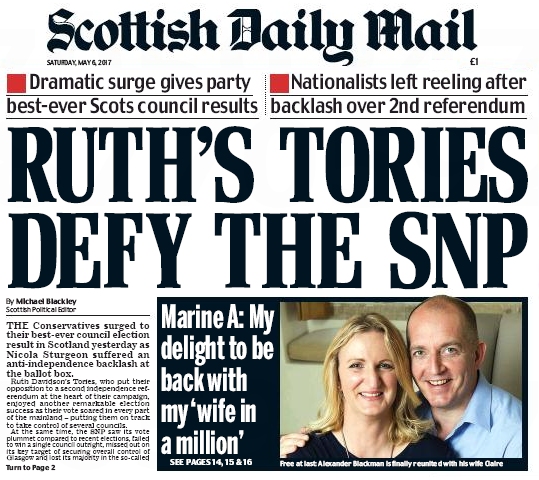 What really happened that the Tories made advances at the expense of another Unionist Party Labour,
The Nationalist-Unionist Dynamics continues what as changed is one of the players have changed their colours from Red to Blue.
Much as been made of the collapse of UKIP but the Liberal Democrats are still going into reverse.in Scotland and Wales
Incidentally Plaid were second in the UK for net gains after the Tories.
One aspect that is rarely mentioned is that unlike England and Wales . Scotland uses the Single Transferable Vote . It would be interesting to see what a Welsh Result would look like under this ,
It would certainly see the Unionist Parties running candidates in Plaid's Gwynedd stronghold but this might be offset with gains elsewhere and see the Party putting a real effort in areas like Merthyr, Blaneau Gwent and Torfaen,
We now turn to the UK General election clearly the Unionist Media will beef up their Tories in Scotland and hail any SNP losses as scuppering a second referendum.
Wales will be ignored apart from a almost colonial claim that the Tories will win big .
They will not claim it as an English Annexation of
Cymru
, but you will only have to look at
thier
faces to see its what they feel and want to say,