Although the Greens, the Scottish National party and Plaid Cymru in November joined forces to ask the BBC to rethink its plans to exclude them from the main TV leaders' debates in next year's general election.

Although the BBC has launched a public consultation on its election guidelines, but not specifically on its plans for the leader debates.

The BBC and other broadcasters have proposed that the UK Independence party (Ukip) join the Liberal Democrats, Labour and Conservatives in one nationwide debate, followed by a discussion between the three main Westminster parties, culminating in a head-to-head debate between the prime minister, David Cameron, and the opposition Labour leader, Ed Miliband.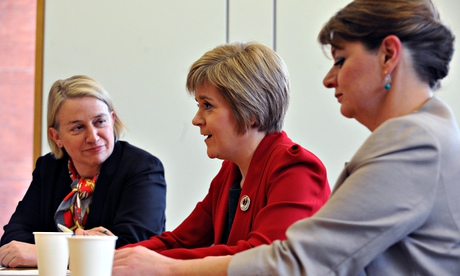 A real Alternative that deserved to be heard
ON Monday First Minister Nicola Sturgeon, Plaid Cymru leader Leanne Wood and leader of the Green party in England and Wales Natalie Bennett have stated that all three parties will unite whenever possible to battle the Westminster parties' obsession with austerity.

During a meeting at Westminster tthe three party leaders said that with no end yet in sight to the failed austerity agenda of the Westminster parties, the General Election next May is an opportunity to change UK politics for the better.
A medsage that needs to be put out .
If the media exclusion does not change. I would like to suggest an alternative.
After the 4 Grey Men have had their say on the mainstream media . The three Anti-Austerity leaders should hold a joint debate (probably in London ) ,where they answer the most relevant questions proposed to the four who will al be on the right and offer no .alternative to the Austerity programme.
It should be recorded live and then it will be up to those of us to stream it on the Social Media making it clear that these are the answers the establishment did not want you to here .
On Facebook when it comes to Likes. Plaid have 11285 SNP 178,419 and the Green party in England and Wales 120,638 likes
If everyone who used this media and "liked" one or more of the above passed this on we could reach a huge amount of people.
After the First debate in the last general election Plaid saw its share in the vote fall and it could well be argued they were heading to win Ynys Mon and Llanelli before all the publicity went to the three main parties and Clegg media.
There is an alternative out there,