Imagine for some reason you need to go to court and also need Legal Aid and found that you couldn't turn to a Solicitor who you knew and trusted but found that one was appointed for you.
Imagine your reaction if that Solicitor came from the same Company as Eddie Stobart trucking According to the
Guardian
Apparently what may be on this what when new rules on Legal Aid come into force
"The subsidiary of the haulage firm Eddie Stobart has emerged as a leading contender in bidding for a new generation of criminal legal aid contracts that would deprive defendants of the right to choose their own solicitor.
Lawyers are planning protests outside parliament in opposition to the Ministry of Justice's proposals, which aim to cut fees, reduce funding of judicial reviews and save a further £220m out of the legal aid budget.
The row within the legal profession over the plans is intensifying. The head of Stobart Barristers has described traditional law firms who rely on legal aid as "'wounded animals waiting to die"
Guardian 8th May 2013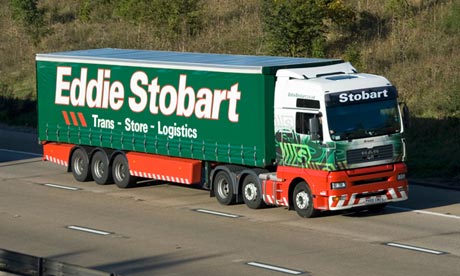 Trevor Howarth, its legal director, said the firm would be bidding for the new criminal defence contracts. "We can deliver the service at a cost that's palatable for the taxpayer," he said.
"Our business model was developed with this in mind.
"We at Stobart are well known for taking out the waste and the waste here is the duplication of solicitors going to the courtroom. At the moment there are 1,600 legal aid firms; in future there will be 400. At Stobart, we wouldn't use 10 trucks to deliver one product."
Howarth said he had received emails from solicitors with the heading "Truck Off". He added
: "I have already taken calls from barristers [on our panels] who say they have been contacted by solicitors telling them they won't use them again if they take instructions from us."
On removing a defendant's right to choose their solicitor, Howarth said: "I don't think the lack of choice is damaging. [People are not] entitled to access justice with an open cheque. No one is stopping them paying for their own choice of solicitor."
Soliciters in Wales have warned that UK Government changes to legal aid will result in miscarriages of justice and the closure of high street
Members of the legal profession lobbied the Wales Office about the impact they claim cost-saving proposals from the Ministry of Justice will have on people throughout the nation.
Mark Davies of Swansea-based Goldstones Solicitors, said:
"This is going to have a devastating impact on high street firms."
The Wasting Mule tells is that.
It is planned that 21 contracts will be awarded to provide legal aid criminal services in Wales – nine in South Wales and four each in Dyfed-Powys, Gwent and North Wales.
Describing the challenges of serving Dyfed-Powys, he said:
"It's 4,700 square miles. It's a huge area.




"To put that into context, if you get arrested in Newtown and the lawyer that has the contract is based in Haverfordwest, it's going to take over two and a half hours just to get that lawyer over there and back; it's a 130 mile round-trip."




"What we are going to have is effectively the death of the high street firm."
Western Mail 21st May 2013
Lynda Roberts of Porthmadog-based Breese Gwyndaf Solicitors feared that today's standards of Welsh language provision would disappear if services are provided by a few large companies.
Ms Roberts is also alarmed that in most criminal cases clients will lose the ability to change their representation.
Describing the importance of ensuring that people in Welsh speaking areas could access advice in their first language, she said

: "Client choice is paramount... The provision of advice is essential in the Welsh language in those areas.
Speaking in the Commons, Conservative Justice Secretary Chris Grayling said:
" I have absolutely no intention of ending up with a legal aid market dominated by a small number of very large firms.
"A central part of the tendering process will involve a quality threshold that ensures that we have the quality of advocacy and litigation support in this country that we need and expect."
He added: "We must ensure that every defendant, innocent or guilty, has access to a proper defence. We also need a system that is affordable at a time of great financial stringency."
The Fear is that (though some will say the definite result) is that the changes will be on Legal aid will be defended by young inexperienced solicitor and there will be increased miscarriages of justice through inept defence or the firm with an eye on the costs will persuade defendants to plead guilty
How many MPs and Lords who support this measure have or (ever will) needed Legal Aid ?
This is truly frighting move that could see a further difference between those who can afford a decent defence and a difference between acquittal rates based on ability to pay.