Hopefully future employers studying CV's or application forms will not spend much time looking at the year that whoever is applying for the job sat their A levels or GCSE.
Unfortunately because of the fiasco it could be that they will look unfavourably at the results for 2020 and 2021 because we face the same problem next year . a situation that if all the UK legislatures had used common sense could have been avoided without to much emphasis.
Welsh Education Minister Kirsty Williams announced there would be an independent review of decisions made since the cancellation of exams due to the Covid pandemic.
She said
"We have sought an approach which provides fairness and balances out differences in the standards applied to judgments in schools. Given decisions elsewhere, (my emphasis) the balance of fairness now lies with awarding centre assessment grades to students, despite the strengths of the system in Wales.


"For grades issued last week, I have decided that all awards in Wales will also be made on the basis of teacher assessment. For those young people for whom our system produced higher grades than those predicted by teachers, the higher grades will stand.

"Maintaining standards is not new for 2020 – it is a feature of awarding qualifications every year in Wales, and across the UK. However, it is clear that maintaining confidence in our qualifications whilst being fair to students requires this difficult decision.


"These have been exceptional circumstances, and in due course I will be making a further statement on an independent review of events following the cancellation of this year's exams.

"Other awarding bodies across the UK are involved in determining the approach to vocational qualifications. This continues to be the case, but it is important that I give assurance to GCSE, AS and A-level student at the earliest opportunity."
So it seems that Ms Willaims and her Labour boss Mark Drakeford were pushed into making the change by the decision by the English Education minister, which is disturbing for devolution even if it was the right thing to do.
With Welsh Labour MPs and Senedd members seemingly distancing themselves from the original decision by the Welsh Government and the First Minister apparently

saying that if it were up to him, the grading injustice would have been allowed to stand it could be that , there e will bean attempt by Welsh Labour to throw the Lib Dem Education Minister under the Bus and shift the blame entirely on her shoulders.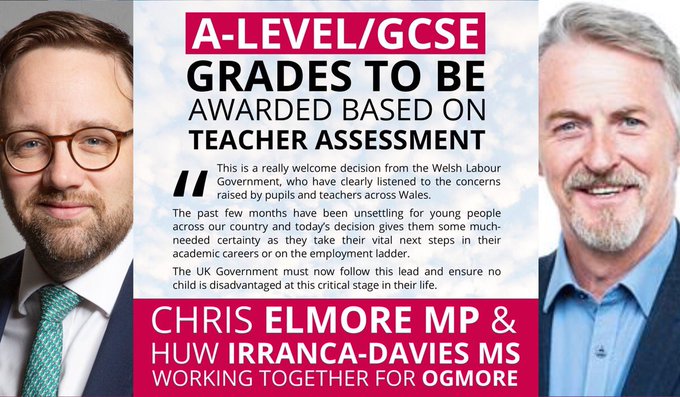 Except of course it was the Welsh Government reluctantly following the London lead and
probably, both were forced by the sensible move in Scotland to reevaluate results there and ultimately just as it faslls on Boris Johnson's
shoulders in England , it falls on Mark Drakeford in Wales
Speaking to
@ITVWales
the First Minister is being quite clear The decision to change the system in
was taken today after the Welsh Government learnt
was going to teacher assessment. Mark Drakeford said not helpful
moved away from a 4 nations approach.
Indeed! One wonders where

Labour

will

go with this.
Plaid Cymru Leader Adam Price MS attacked : the Labour leader Sir Keir Starmer who promoted a powerful video criticising the Conservatives for the UK Government's handling of this year A-level results."The sheer hypocrisy from UK Labour in their vocal outcry of UK Government's "botched grading system" and of "robbing" these students of their future while their Welsh Government counterparts commit the very same gross error is staggering.

"Mistrust in the system couldn't have been communicated louder by students, teachers and even Welsh Labour's own back-benchers. Pupils who were awarded lesser grades than the teacher assessments in A-level and AS exams should be upgraded to the teacher assessment grades. If this approach is being advocated by the UK Labour leader in England, why on earth is the Labour First Minister in Wales so stubbornly against?"

With GCSE results due to be released Thursday the Plaid leader also called on the Welsh Government for clarity ahead of results day. He said: "Further, this should be used as the mechanism for awarding GSCE results and this should be communicated to learners today for peace of mind."
With Mark Drakeford in denial , Mr Starmar may think differently to his man in Wales/
Of course whoever is in the job will face the same problem to some extent next years as students may well sit their exams but have faced a shorter period of what is a two-year course and the exams will need to take this into consideration as the curriculum will not be truly met.