Delyth Jewell has been confirmed as the Plaid Cymru assembly member for South Wales East after the death of Steffan Lewis.
Ms Jewell was the second on the Plaid Cymru party list for the region in the 2016 election. The assembly said she will take her oath in due course.
Mr Lewis died last week after suffering with terminal bowel cancer. He was 34.
The politician is survived by his wife, Shona, and their three-year-old son Celyn.
Ms Jewell has worked as a campaigner on women's rights and international development at the charity Action Aid.
"No-one would wish to come to the assembly as a new member in such sad circumstances.
"We will give Delyth all the support we can as she arrives at this difficult time
Ms Jewell appointment has predictably upset the likes of Jac O ' the North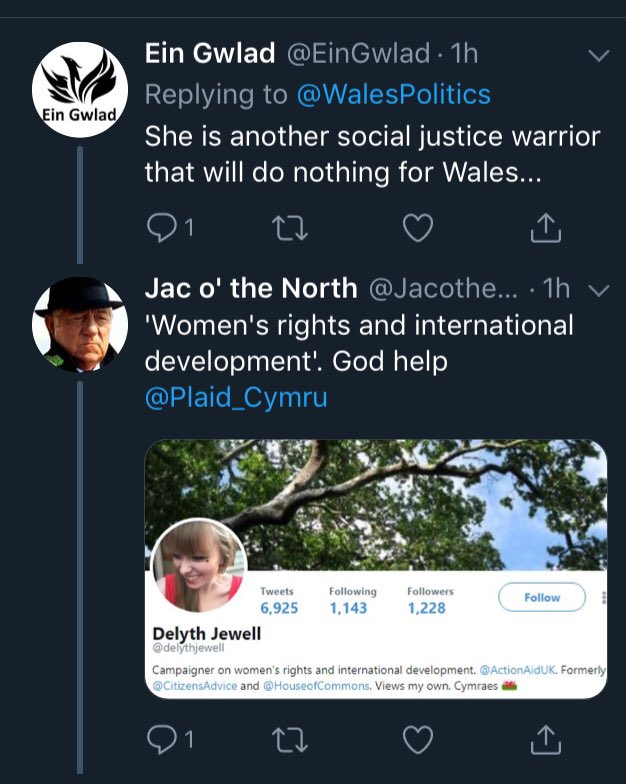 If they had done any real research then they would find ironically that

Delyth Jewell won the Overall Researcher of the Year award at Westminster. in 2014 whilst working for the then Plaid MP on his stalking bill
The panel of judges, made up of MPs, peers and the National Chairman of the Federation of Small Businesses which sponsors the event, said that her work on the stalking bill "went far beyond what would be asked of a researcher".


In fact she's holding two trophies, because she also won the award for Crossbench or Other Parties' Researcher of the Year.

They might realise that such an award out of hundreds of researchers some of who may well be now MP's or future ones is a huge accomplishment.
Plaid are very lucky to see someone step in the shoes of a a AM who was renown in the Siambr for the quality of his research.
The reply to Jac from Leanne Wood may well sum up much of the feeling of many in Plaid and beyond
Do you have to be an arsehole all the time? Have a day off.


Maybe this the time we started fighting back against the dinosaurs like Jac O' the North and Ein Gwlad.
Plaid have appointed someone to replace

Steffan Lewis

and

Delyth has very big shoes to fill, but it may well be that a Jewell may take the place of our lost Diamond.