A statement issued by the company said it had sent the guidance on its language policy to all UK stores.
Welsh Language Commissioner Meri Huws is
investigating any breaches in rules
. though this current issue has highlighted the lack of Teeth of the commission and its time discrimination against the use of Cymraeg was treated in the same way as discrimination on colour, gender or sexual identity is treated.
The notice, which was printed on Sports Direct-headed paper, was criticised by Plaid Cymru AM Sian Gwenllian who said it was "discriminatory" in an area where a lot of people speak Welsh.
In a statement, the firm said the notice was intended to ensure that all staff fully understood health and safety briefings, and that the note would be re-written and re-issued.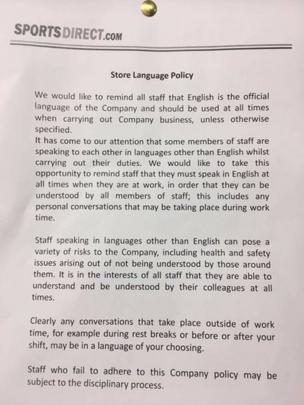 "English is the most common language used by our multi lingual staff and, therefore, the most likely to be understood by all," it said.
"This notice was not intended to restrict the use of the Welsh language, or prohibit staff from communicating in their local language, outside these briefings or with customers.
"We will be reviewing the wording of the notice to ensure this is made clearer and re-issuing an updated notice. We are an international business and fully support the use of the local language in all our jurisdictions."
"We apologise for any misunderstanding or upset this notice
To me this if far from a admittance that Sports Direct have attempted to discriminate against Welsh speakers and broken the law even it is currently toothless.
But lets not just dwell on the attempt to ban Welsh speakers.
Whilst this is stark and offensive, it is also appalling to ban others from speaking their language even it appears to customers who may not be fluent in English.
One wonders if the real reason for the notice is that Sports Direct is to hide from customers the fact that they are employing staff from outside the UK and who have been accused of employing staff

effectively hourly rates of pay below the minimum wage.
I am not attacking the employment of "foreign" workers but that some companies are exploiting them and Sports Direct record is not good.



Warehouse staff at the group, which is controlled by Britain's 22nd richest man, are required to go through searches at the end of each shift, for which their time is unpaid, while they also suffer harsh deductions from their wage packets for clocking in for a shift just one minute late.





The practices contribute to many staff being paid an effective rate of about £6.50 an hour against the statutory rate of £6.70 – potentially saving the FTSE 100 firm millions of pounds a year at the expense of some of the poorest workers in the UK.
Sports Direct may or may not have made moves in 2016 to address the issue last year the BBC said that
Sports Direct's founder Mike Ashley has admitted workers at its Derbyshire warehouse were paid below the minimum wage and its policy of fining staff for being late was unacceptable.HMRC is investigating the firm over the minimum wage issue, Mr Ashley told MPs.An internal investigation had discovered "some issues" with working practices at the warehouse, which he had "hopefully" addressed, he said.The firm had "probably" outgrown his ability to run it, Mr Ashley agreed.He said much of what he'd found out, after starting an internal investigation into how staff were treated at its Shirebrook distribution centre six months ago, was an "unpleasant surprise".
I hope things have improved but whilst we in Wales may have one a seeming victory in an appalling and illegal discriminatory attack on the use of Cymraeg . I hope that we also make it clear that Sports Direct notice was insulting to others as well.