Although the situation is different there is a case for pointing out the attitude of English Politicians and Media towards the devolved legislatures and the treatment of Native Americans who are trying to protect their own people
Sioux tribes in the US state of South Dakota are refusing to remove coronavirus checkpoints they set up on roads which pass through their land.

South Dakota Governor Kristi Noem wrote to several tribal leaders last week saying the checkpoints were illegal.

But the Sioux say they are the only way of making sure the virus does not enter their reservations.

Their limited healthcare facilities would not be able to cope with an outbreak, they say.

At present, people are only allowed to enter the reservations for essential business if they have not travelled from a Covid-19 hotspot.

They must also complete a health questionnaire before doing so.




Ms Noem is threatening to take the two tribes - the Oglala Sioux and the Cheyenne River Sioux tribes - to federal court if they do not comply.

In a letter sent to their representatives on Friday, she demanded the checkpoints be removed.

"The checkpoints on state and US highways are not legal, and if they don't come down, the state will take the matter to federal court, as Governor Noem noted in her Friday letter," her senior adviser and policy director, Maggie Seidel, said in an email sent to the local Argus Leader newspaper on Sunday.

Tribes are meant to get permission from state authorities if they want to close or restrict travel inside their reservations.


The chairman of the Cheyenne River Sioux tribe, Harold Frazier, issued a statement in response to the governor on Friday, saying: "We will not apologise for being an island of safety in a sea of uncertainty and death."

"You continuing to interfere in our efforts to do what science and facts dictate seriously undermine our ability to protect everyone on the reservation," he added.
Oglala Sioux President Julian Bear Runner says Ms Noem's decision "threatened the sovereign interest of the Oglala people".
Contrast , the picture above of a Sioux checkpoint with that of White supremetist calling for an end to the lockdow
Hundreds of protesters, some armed, gathered inside Michigan's state capitol on Thursday as state lawmakers debated the Democratic governor's request to extend her emergency powers to combat coronavirus.
A tightly packed crowd of protesters, some carrying rifles, attempted to enter the floor of the legislative chamber, and were held back by a line of state police and capitol staff, according to video footage posted by local journalists.
"Let us in! Let us in!" the protesters chanted, as they stood shoulder-to-shoulder inside the statehouse. Few of them were wearing face masks.
Some of the protesters shouted anti-government slogans, including comparing the state's Democratic governor, Gretchen Whitmer, to Hitler.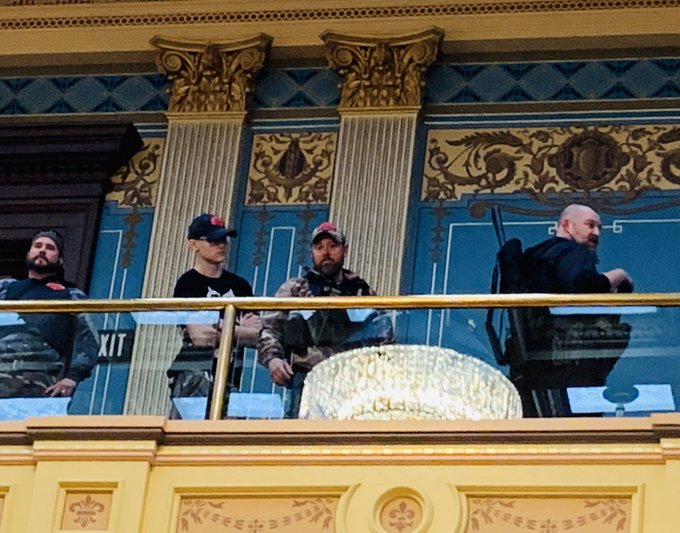 Yet apparently , this is perfectly legal .
I wonder what the reaction of the London media will be when England based trippers take Boris Johnson's "to travel anywhere for exercise " are met in Scotland and Wales by the police carrying out our laws