A NEW poll on how well leaders and governments have handled the coronavirus crisis has found 82% of Scots think Nicola Sturgeon has done a good job and must if it continues make a Second Referendum more likely .
Indeed if things continued as they are it would not be an impossible scenario if Ms Sturgeon simply declared an Universal Declaration of Independence (U.D.I.), citing the Government in Westminster record in the crisis as clear proof that Scotland is being damaged by the Union
The Ipsos MORI study of more than 1000 Scots showed support for the First Minister and Scottish Government's response to the pandemic, while revealing a whopping 55% of Scots think Boris Johnson has done "badly" in his approach to the crisis.
The research found 78% of Scots felt the Scottish Government had done well, and just 34% of people felt the UK Government had done well.
England and Scotland have taken distinct approaches to relaxing lockdown measures, with Johnson easing some restrictions two weeks ago but Sturgeon holding off until the end of this week.
Johnson also plans for children to go back to school on June 1 – next week – while the SNP leader does not expect pupils to return to classrooms until August.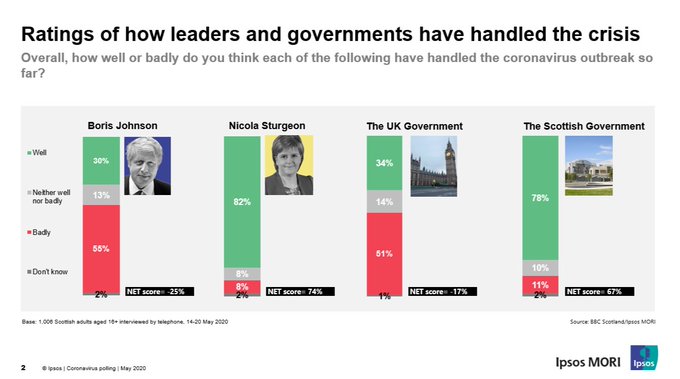 NEW Scotland really is another country in its views of its leader and CV19 handling

@

NicolaSturgeon

does miles better than

@

BorisJohnson




2,078


1,201 people are talking about this


The poll was carried out between May 14-20, so does not account for the recent row around adviser Dominic Cummings's 250-mile lockdown trip to Durham while sick with suspected Covid-19.
A separate Savanta ComRes poll, which does cover that period, found Johnson and the UK Governments' approval rating has plummeted as a result of the story.
The data tracker found in four days Johnson's approval rating dropped from 19% to -1% while the UK Government's approval rating fell 16 points in one day to -2%.
ITV's Paul Brand said: "Always wary of taking too much from a poll, but this fall is dramatic enough to suggest the story has
certainly been damaging for the government."
I suspect that the character assassination which

BBC Scotland Editor Sarah Smith tried to start bu saying

:"The Scottish Government say like all the UK Nations they base their advice on expert advice that they are given and it's got nothing to do with politics but it has been obvious that Nicola Sturgeon has enjoyed the opportunity to set her own lockdown rules and not have to follow what's happening in England or other parts of the UK.


The gamble is whether or not people will continue to support her taking a different path when they're living under more stringent restrictions than people in other parts of the United Kingdom."
Will be continue
Sarah Smith has since responded directly to the First Minister on twitter.

The veteran presenter said she'd made a mistake and had meant to say "embraced" not "enjoyed
i don't believe her explanation and suspect it will be part of a trend in the Unionist media in the future.
As for Wales the First Minister here has hardly shorne , balancing himself between trying to take an Independent line a la Sturgeon. whilst failing to stand up to Boris Johnson and his Health (English) Secretary Matt Hancock.
I would be very disappointed however if Welsh Polls do not reflect more disquiet with Boris Johnson's misleadingly people to believe that they can travel to Welsh Beauty spots and not even correcting this as people face fines and being turned back as well the wrath of locals.