I am knackered after staying up to watch the results and need to have a good rest before making any detailed analysis
But clearly the laurels go to the bloody Tories
Ynys Môn falling to them and the increase of thier vote in
Carmarthen East and Dinefwr , where they have little input into local government , shows how much the influence of London Centic Media have on Wales and large numbers following the pattern in England
Jonathan Edwards (PC) 15,939 (38.87%, -0.43%)

Havard Hughes (C) 14,130 (34.46%, +8.19%)

Maria Carroll (Lab) 8,622 (21.03%, -8.75%)

Peter Prosser (Brexit) 2,311 (5.64%)

Plaid Cymru majority 1,809 (4.41%)

4.31% swing Plaid to Conservative

Electorate 57,407; Turnout 41,002 (71.42%, -1.87%)
However Plaid can take much comfort in Ben Lake in Ceredigion increasing his majority and probably a end to the Liberal Democrats challeging in the future.
Ben Lake (PC) 15,208 (37.92%, +8.69%)

Amanda Jenner (C) 8,879 (22.14%, +3.76%)

Mark Williams (LD) 6,975 (17.39%, -11.57%)

Dinah Mulholland (Lab) 6,317 (15.75%, -4.41%)

Gethin James (Brexit) 2,063 (5.14%)

Chris Simpson (Green) 663 (1.65%, +0.29%)

Plaid Cymru majority 6,329 (15.78%)

Electorate 56,250; Turnout 40,105 (71.30%, -3.89%
Once again the Liberal Democrats are without a seat in Wales and without a UK leader as

Jo Swinson narrowly lost her Dunbartonshire East seat to the SNP by just 149 votes.
Questions must be asked about the Remain alliance pact between Plaid and the Liberal Democrats which seems to have benefited the Tories in some seats.
A bad night for Labour in Wales loosing six seats and now have only one seat outside the their South Wales Valleys Bastion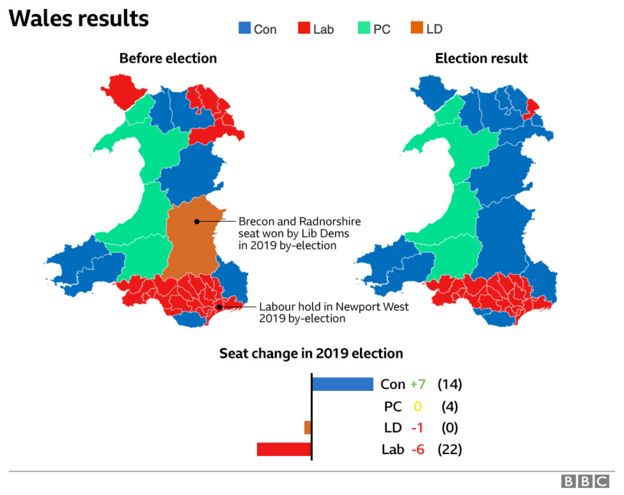 For Plaid the biggest concern is how to boost their image in an increasingly "English" media (and Tory biased) election.
If the Tories can parachute candidates with very loose connections (to Wales) , including ones who can't even pronounce the constituency name , then we are in deep trouble as anation.