Alexander Boris de Pfeffel Johnson

and his handlers clearly thinks , it is better for him to mocked for saying saying

he enjoys making, and painting, wooden models of "wonderful" London buses.

After being accused of cowardice for his steadfast refusal to face the media in the Tory leadership contest, Boris Johnson finally broke cover –
The front-runner to succeed Theresa May as Prime Minister eventually took part in a series of broadcast interviews following a weekend of newspaper headlines regarding his relationship with girlfriend Carrie Symonds.
The Independent tells us .
On Friday, the news broke that police were called to the flat shared by the couple in South London after reports of a domestic incident. An apparently candid photo was then published by the Daily Mail on Monday of Mr Johnson, 55, and Ms Symonds, 31, sat hand-in-hand on garden furniture in the idyllic Sussex countryside.

The media appearances could have gone more smoothly – LBC's Nick Ferrari asked an exasperated Mr Johnson more than 25 times about accusations that the photo was leaked without getting a response, during a tense exchange.Then, in an interview with Talk Radio, Mr Johnson was asked what he does to switch off away from politics, and delivered an answer described by one political scientist as "so bizarre it's mesmerising".

"I like to paint, or I make things," he began.

"I have a thing where I make models of… (when I was Mayor of London we made beautiful…) I make buses. I make models of buses.

"What I make is, I get old, I don't know, wooden crates, right? And then I paint them.

"And they have… I suppose it's a box that's been used to contain two wine bottles, right?

"It will have a dividing thing, and I turn it into a bus and I put passengers… you really want to know this?"

Talk Radio's political editor Ross Kempsell at this point attempted to step in: "You're making cardboard buses. OK, that's what you do to enjoy yourself…"

Mr Johnson, however, was warming to his theme, and refused to be distracted.

"I paint the passengers enjoying themselves on the wonderful bus," he continued.

"Low carbon, of a kind that we brought to the streets of London that reduces CO2, reduces nitrous oxide, reducing pollution."

His meandering confession provoked near universal incredulity, with many opponents alleging that Mr Johnson had simply made the whole thing up on the spot in lieu of any credible hobbies.
But that was the whole point Johnson was using the"Dead Cat In The Table Ploy" which he himself explained back in 2013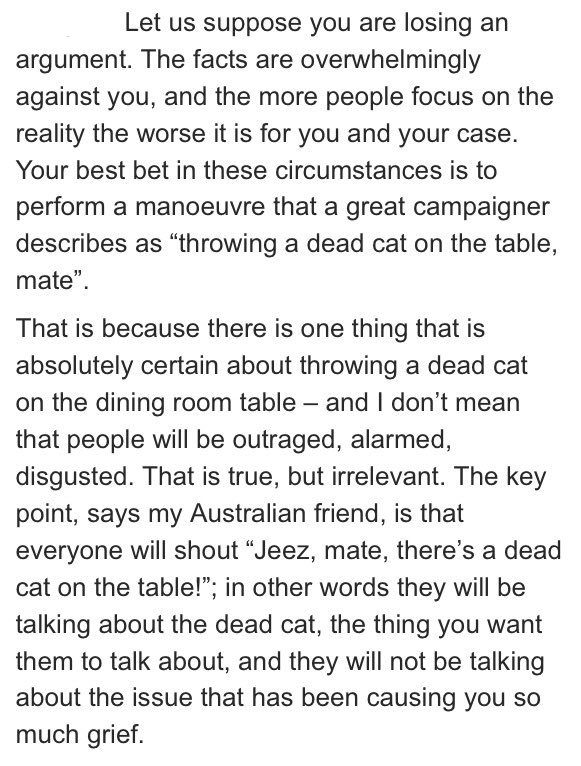 The Australian is

Sir Lynton Crosby who is advising Johnson on his leadership bid after the Tory election guru was credited with helping Scott Morrison's "miracle" Australian election victory.
There is a reason Boris Johnson is avoiding the TV debates, and his name is Lynton Crosby.

Crosby is running the Johnson leadership campaign — in awkward conjunction, it seems, with Boris's girlfriend C

arrie Symonds. He

is a veritable TV debatephobe. He has run the last two Tory general elections, and he ordered David Cameron and Theresa May to shy away from the TV debates.

In Crosby's view, debate-ducking is the sensible course. He sees no upside. For frontrunners, especially, if the debate goes well, there is no real uptick in support. The only way a TV debate can influence an election is if a candidate has a massive gaffe, a viral FAIL that destroys his or her credibility. So best shunned.

That makes perfect sense in terms of winning — perhaps doubly so in Boris's case, with so much of the anti-Brexit media bubble desperate for him to slip up. It's why Boris's team are apparently so wedded to this 'submarine' strategy.
But the "Dead Cat on the Table works" it may lead to mockery but it diverts attention from his private life and the fact that Mr Johnson is leading us to a NO Deal which , he can't really give us any really explanation on how it would be implemented.