Last weekend was one of the most embarrassing ever for Welsh Rugby.
Not the defeat to Australia but that does show we may be heading for a unconvincing win against Georgia and heavy defeat to New Zealand with only the possibility of a win against South Africa to give us real gomfort , Though the Springbox are nothing like the power they were .
But the lamentable performance from our four Welsh regions in the Anglo-Welsh Cup that provides a solid argument for making it just an Anglo Cup.
The Dragons, Ospreys, Blues and Scarlets crumbled to a combined 174-19 scoreline against Northampton, Wasps, Newcastle and Exeter respectively.
The Blues lost (57-0) at Kingston Park and the Dragons (41-7) at Franklin's Gardens when defences parted like the Red Sea at times.
The Ospreys fared a little better in losing 36-12 at home to Wasps with a youthful line-up that included lock Rory Thornton and scrum-half Reuben Morgan-Williams.
As Andy Powell points out
I know there are some mitigating circumstances but the Welsh approach to the tournament saddens me these days.




When the regions joined what had been England' cup tournament in 2005, there was excitement with them taking a serious approach, fielding strong line-ups and drawing large attendances with the Millennium Stadium, as it was called then, hosting the semi-finals and Twickenham the final.




Of course, crucially they were helped by it not clashing with international fixtures and had full squads at their disposal.




The Scarlets reached the inaugural final, losing 26-10 to Wasps in front of 57,212 at Twickenham. The Ospreys made it the following campaign, going down 41-35 in a tremendous final with Leicester Tigers in front of 43,312.
True the English clubs did have a sprinkling of first team regulars but the Blues were no means short of recognisable names and the same could be said of the Dragons in the east Midlands.




In Newcastle the Blues had the likes of Rhun Williams, Tom James, George Earle and Jack Roberts among their ranks and the Dragons fielded Ashton Hewitt, Rynard Landman and Pat Howard at the Saints.
Then there is news that
The British and Irish Cup is to be scrapped with England pulling out of it due to the indifference of Welsh rugby towards it.
Cross Keys who reached the final in 2012 and in particular Pontypridd who had great numbers attending both home and away fixtures were particularly aggrieved – were replaced in the cross-border tournament by Premiership Select Regional sides last season.
But the move has back-fired with the Welsh teams struggling to be competitive and to attract crowds.
As the Wasting Mule reports ,,
And England's Championship clubs, which are headed by ambitious Bristol, have had enough of dishing out hidings to Welsh opponents.




They will pull the plug on it at the end of the season with Rugby Football Union professional rugby director Nigel Melville telling the Rugby Paper it wasn't working.
The Welsh Rugby Union are facing loosing supporters to the round ball game not only due to the success of Chris Coleman side but because to many they seem to have given more support to Welsh National Identity including the promotion of Cymraeg.
Welsh Rugby is dying at grass roots level.
I know we are a small Nations but for a Country that claims Rugby Union as a its National Game we seem not to be somewhat behind n Total Players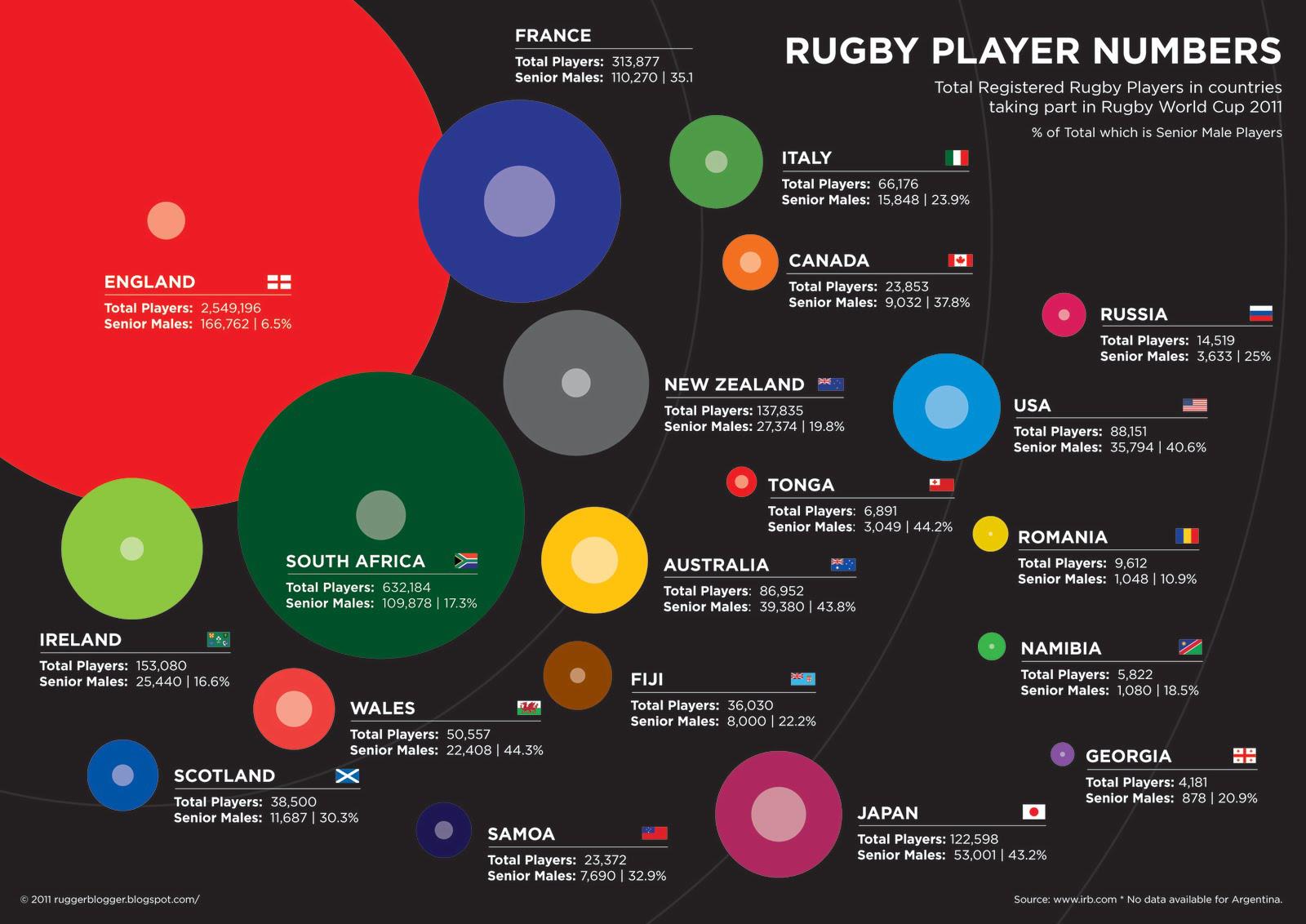 Yes the Senior players is not bad in comparrison but how many are we loosing from youth squads as they find it hard to find a club to progress.
Most clubs used have a Seconds or even Thirds side now some famous clubs are struggling to put find a First Team on Saturdays
I am not one of those who feel that Regional Rugby was a mistake but we need a strong league and a Premiership that sees promotion and relegation and a end to the constant WRU fiddling .
God knows how the current Premiership fixtures makes sense maybe you could explain it?
Mind you it will be probably different next season anyway.