I am beginning to wonder if the controversy over Conservative Whip Chris Heaton-Harris wrote to Vice Chancellors asking for the names of professors who taught about Brexit and asking to see syllabuses. is not just the action of an individual MP but the opening salvo of an attempt to able our universities as being full Left Wing intellectuals who are out of touch with the "Man in the Street"
Unless Chris Heaton-Harrs is a complete Idiot hen he would be aware many would this as a
"sinister" attempt to censor Lectures and professors and censor themand accusing him of conducting a "McCarthyite" witch hunt.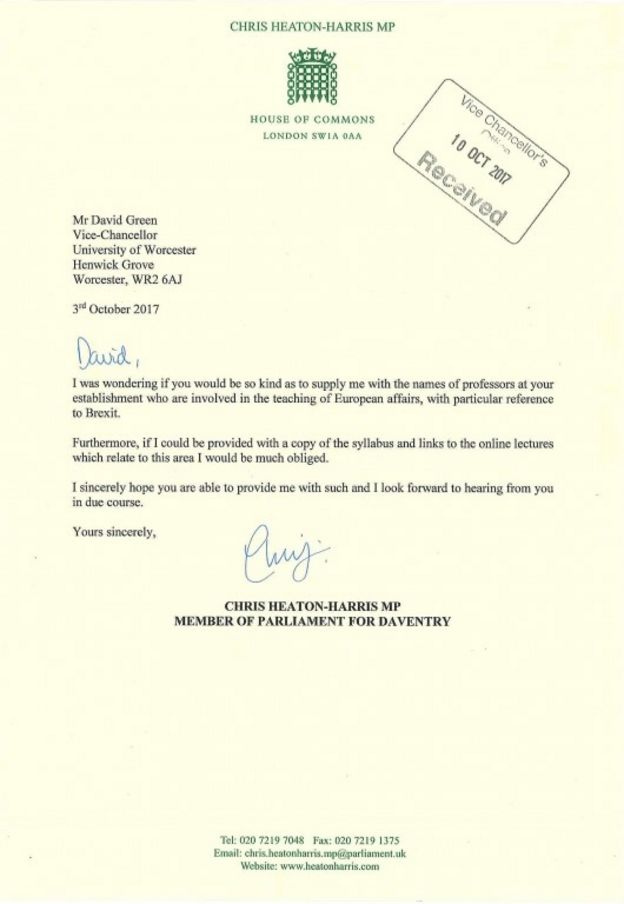 The Huffington Post reports that
After Tory MP Chris Heaton-r - was condemned earlier this week over a "chilling" letter he wrote to universities asking for the names of academics teaching about Brexit, the right-wing paper today suggested it is in fact pro-EU lecturers leaving students afraid to speak their minds on campus.
According to the tabloid, professors have been caught "doling out pro-EU pamphlets" and inviting students to Open Britain meetings, and one academic allegedly compared supporting Brexit to backing the Nazis after seeing an undergraduate at a pro-Leave stall ahead of the Referendum.


Referencing the backlash faced by Heaton-Harris over his enquiries, the newspaper said that "revelations of anti-Brexit bias" at universities showed that the Conservative politician was "well within his rights to ask what is happening in higher education".




The Daily Mail asked students who had heard "anti-Brexit bias" on campus to get in touch, while in a separate article the paper also profiled 14 Oxford and Cambridge University leaders, asking: "Just why is every new Oxbridge head a leftie?"
Then Welsh MP David Davies has launched a blistering attack on universities after walking out of a Westminster seminar organised by Cardiff University because he "wasn't going to be lectured on freedom of speech".
The issue was raised with Cardiff University's Vice-Chancellor, Colin Riordan, at the breakfast seminar meeting on Thursday morning.
Monmouth MP Mr Davies, sat at the front, intervened in what one described as a "pretty polite exchange of views" but others said was a "rant".
The Conservative MP defended his colleague's actions and argued that universities "shouldn't be promoting anti-Brexit views because they're publicly funded".
After a comment from former Labour Leader Lord Kinnock, David Davies left, saying he had "had enough of this".
Talking to BBC Wales after the event, Mr Davies said he
"wasn't going to spend my morning with Lord Kinnock or being lectured by him on freedom of speech."




"Free speech is an issue that universities need to address and it's absolutely time that they realised that they are publicly-funded organisations that shouldn't waste their time belly-aching about Brexit.




"They haven't got the time to sit there drinking coffee and eating croissants and lecturing people in Parliament about anti-Brexit bias,"
A Labour MP present at the event said Mr Davies' departure "felt very staged", whilst another accused the Monmouth MP of having "turned up deliberately to make a fuss".
Speaking in the Senedd on Tuesday, First Minister Carwyn Jones said Chris Heaton-Harris' letter was "as authoritarian a request as could possibly be made."
"I suspect this gentleman would have a lot to teach Stalin,"
I am not into conspiracy theories, but it seems to me that
Heaton-Harris letters were designed to provoke exactly the backlash he received giving the likes of the Daily Mail and David Davies their opportunity to make their own attack on Academic freedom.
Whether
Heaton-Harris'

coordinated with others is open to question maybe he predicted that he would strike a cord with the likes of the Daily Mail which since its support for fascism in the 1930 still harbours for tyrannical attacks on anyone who stands up to Right Wing Tory governments and Brexit has given them and others the perfect platform